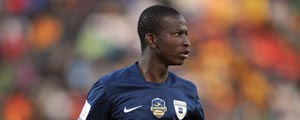 JOHANNESBURG – Former Zimbabwe national team defender Thomas Sweswe, banned for life together with other players and officials for their involvement in the Asiagate scandal, says he is not worried about anything. Report by Supersport
The BidVest Wits defender said that he did not want to say much at the moment because Zifa had not been talking to the players directly.
He told Supersport.com that what he was doing was concentrating on his game at his club for the time being.
"I am not worried. There is nothing to worry about. I also just hear from the media about the ban. I don't want to talk much because they can use that against me. What I am doing now is playing my game and my lawyer will deal with the other issues in Zimbabwe," Sweswe said.
Sweswe, together with Mamelodi Sundowns defender Method Mwanjali and former Black Leopards coach Sunday Chidzambwa, have been banned from all football activities for life by Zifa in the Asiagate scandal which rocked the country.
Zifa has, however, given all banned players and officials the chance to appeal their punishments if they are not happy.
The Appeal Committee will be responsible for hearing these cases. So far only two people have confirmed their appeals by paying the $6 000 fee.