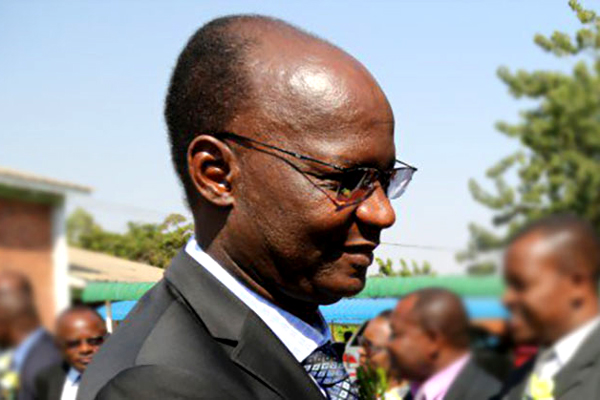 ZANU PF political commissar Saviour Kasukuwere and Higher Education minister Jonathan Moyo— the brains behind the G40 faction in the ruling party — were yesterday "fished out" from President Robert Mugabe's Borrowdale mansion where they had sought sanctuary and handed over to the military, NewsDay can reveal.
BY RICHARD CHIDZA/BLESSED MHLANGA
It is understood that the two Cabinet ministers were holed up at Mugabe's mansion as they evaded late night military arrests early yesterday morning.
NewsDay heard that Zimbabwe Defence Forces (ZDF) Commission chairman Mariyawandah Nzuwah was sent by ZDF Commander General Constantino Chiwenga to fetch the two whom he warned on Monday that he would "fish them out" of Zanu PF to ensure stability in the former guerilla movement. Nzuwah is also chairman of the Civil Service Commission.
The ZDF insisted that their action was not "a military takeover of government", adding the President was still safe and in charge, although there were reports that Mugabe and his wife First Lady Grace were "under house arrest".
According to the sources, the two have now joined Zanu PF secretary for administration and Finance minister Ignatius Chombo, youth secretary Kudzanai Chipanga, Central Intelligence Organisation director of security Albert Miles Nguluvhe and Police Commissioner-General Augustine Chihuri who were arrested earlier during the night at their homes.
The top government officials were reportedly being held at the KGVI army headquarters in Harare.
"The ministers had been at the house of the President and following negotiations they were handed over and are reportedly being held at KGVI awaiting their day in court," the source close to the developments said.
There were, however, conflicting statements that Chihuri had also been arrested or was out of the country, but these reports could not be officially ascertained.
This came as Sadc chair and South Africa President Jacob Zuma yesterday despatched a two-member delegation to meet military authorities in Harare to discuss the situation prevailing in the country after the army "stepped in" and took control of the country's political power.
Zuma in a statement said he had spoken to Mugabe who remained "safe at home".
"President Jacob Zuma, in his capacity as chair of Sadc, is sending special envoys to Zimbabwe and Angola in light of the unfolding situation in the Republic of Zimbabwe," the South African Presidency said.
"The President is sending the Minister of Defence and Military Veterans, Ms Nosiviwe Mapisa-Nqakula, and the Minister of State Security, Advocate Bongani Bongo, to Zimbabwe to meet with President Robert Mugabe and the Zimbabwean Defence Forces.
"President Zuma spoke to President Robert Mugabe earlier today who indicated that he was confined to his home, but said that he was fine. South Africa is also in contact with the Zimbabwean Defence Forces".
Zuma also sent an envoy to brief Angolan President Joao Lourenco in his capacity as chairperson of the Sadc Organ on Politics, Defence and Security.
The South African leader called for restraint and for the military to ensure that "peace and stability are not undermined in Zimbabwe".
The army yesterday reportedly intensified its witch-hunt and arrest of "criminals" around the President, among them key G40 ministers and top government officials, whom they accused of misleading and holding Mugabe to ransom.
Kasukuwere and Moyo allegedly deserted their homes after members of the Police Protection Unit assigned to guard their properties were recalled by the military.
The Local Government minister's home in Helensvale was deserted with all police assigned to protect him nowhere to be seen and the gate was wide open, with only two cars — a Range Rover and Landcruiser — in the front lock-up garage.
The same situation was prevailing at Chombo's residence where the gate had been run down, while at Moyo's home there was no life at all.
Secretary for Information and Presidential spokesperson George Charamba refused to comment.
Police virtually disappeared from all roads with not a single roadblock in sight, but military presence was only at the Zanu PF headquarters, Munhumutapa government offices and all broadcasting stations in the country.
Army tanks were stationed at ZBC radio and TV stations manned by heavily armed soldiers, who, however, did not interfere with the movement of members of the public.
Workers at State House went about their duties with no traffic control at all roads leading to the President's official residence.
Security was tight at the newly-renamed Robert Gabriel Mugabe International Airport with people checking in and out undergoing heavy searches.
Attempts to get a comment from the police were futile as national spokesperson Senior Assistant Commissioner Charity Charamba was not reachable.
It was, however, business as usual in the capital, Harare, as most shops remained open for business.
ZDF Major General Sibusiso Moyo in a statement on State television early yesterday morning said their aim was to target "criminals around the President" who remains in charge of the country.
Chiwenga on Monday in a defiant statement that seemed to have shaken Mugabe's administration warned that internal succession power struggles in Zanu PF had negatively impacted on the citizenry demanding an end to the purging of party leaders associated with the liberation struggle.
He called Mugabe to order and directed him to stop the ongoing purge on former Vice-President Emmerson Mnangagwa's allies ahead of Zanu PF's December extraordinary congress. Chiwenga also threatened retribution on what he called all Zanu PF counter revolutionaries bent on "destroying the party from within".
Moyo, during the time he was expelled, argued that the ruling party could only be destroyed from within. Moyo is a leading figure in Zanu PF's G40 faction that engineered Mnangagwa's recent expulsion from both government and the ruling party on allegations of disloyalty, deceit and attempts to usurp power from Mugabe, among others.
Other key members of the G40 faction include Grace, Kasukuwere and Vice-President Phelekezela Mphoko. Mnangagwa reportedly leads a rival faction, Team Lacoste, over Mugabe's succession. Public Service minister Patrick Zhuwao had, according to unconfirmed reports, skipped the border to Mozambique early yesterday while Mphoko was reportedly holed up out of the country.
The ZDF chief returned to the country over the weekend to find that Mnangagwa had been fired six days earlier with events moving fast.
High-level sources told NewsDay that Chiwenga was shocked to meet a team of police officers with instructions to arrest him on arrival.
"He was escorted by a team from the Presidential Guard at Harare International Airport. There was a tense and almost volatile situation which only calmed after the police team retreated," the sources said.
Chiwenga's statement triggered a chain of events that thrust Zimbabwe back into the international spotlight and a relatively stable region on the continent into soul-searching.
Mugabe remained mum, but a section of the Zanu PF party fronted by First Lady Grace fought back tenaciously first with a statement from the youth league delivered by a jittery leader Chipanga early on Tuesday warning Chiwenga that he was offside and "millions of youths will not allow you".
Chipanga warned Chiwenga he was treading on "thin ice" and could be charged with treason. As Chipanga delivered his statement literally calling Chiwenga to order, Mugabe convened a Cabinet session as usual at which insiders said Chiwenga's fate was sealed.
"Cabinet agreed he would be charged with treason," NewsDay heard. Military armoured personnel carriers emerged from Inkomo Barracks and were seen along Lomagundi Road and some parts of Harare as the situation, further deteriorated and tempers flared.
Information minister Simon Khaya Moyo, according to government sources, was also asked to issue a statement in the name of Zanu PF denouncing Chiwenga, but cryptically not as government spokesperson.
"He was shaking and did not know what to do. He was in a sticky situation but it had to be done," a Zanu PF source said.