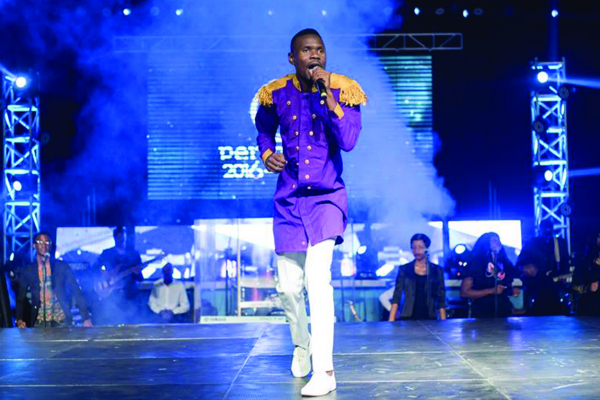 GOSPEL prodigy Wencilus "Mpostori Wency" Makungisa has made a name for himself in music circles as largely a praise connoisseur, but his latest album launched on Tuesday saw him going experimental with worship songs.
BY TAFADZWA KACHIKO
If the reaction by guests that attended the launch of the Apostolic Gospel Worship (Season One) album is anything to go by, then the energetic performer has hit the right chords despite the discouragement he faced from people that felt he was not cut out for worship music.
Mpostori Wency, who fronts the Apostolic Gospel Team outfit, launched the new album at the Dutch Reformed Church in Harare's central business district.
The former ZimPraise Choir member said many people had tried to discourage him from singing worship songs.
"A lot of people said I should not sing worship, but do praise only. I then said to myself, worship is not done by those who can, but by those who want. I want to tell fellow musicians that don't listen to those who confine you to a certain area saying that you cannot sing this and that. That's totally wrong," he said.
Wellington Kwenda, of ZimPraise, described Mpostori Wency as multi-talented and hardworking.
"One thing I like about this guy is that he is multi-talented, very committed and hardworking. He is gifted in singing as well as writing songs. He is so creative when it comes to songs," he said.
Although Mpostori Wency had pledged to distribute 1 000 free CDs at the launch, he was unable to do so "The person, who printed the CDs did not arrive on time. We have, however, started distributing," he said.
The launch, which was also a way of celebrating the new year, brought the audience into worship mood, as Mpostori Wency sang some of the songs on the new album like Ndiye Akasimudzirwa and Mbiri Kugwayana.
When he churned out Mweya Mutsvene Akanaka, fans thronged the dance floor to showcase their dancing skills.
Mpostori Wency recorded his debut album, Mvura Yakawanda, on CD in 2014 and it was followed by a live DVD recording in 2016.