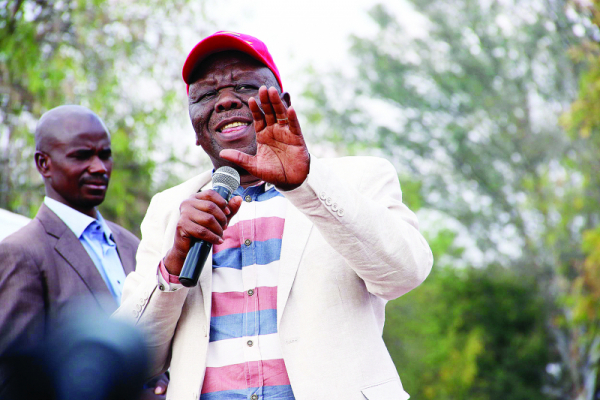 WARRING MDC-T factions come face-to-face today in a crunch national standing committee meeting, without party leader, Morgan Tsvangirai, who is in neighbouring South Africa receiving treatment for colon cancer.
BY OBEY MANAYITI
Today's meeting comes as the centre is failing to hold in the main opposition party due to incessant factional succession squabbles that threaten an implosion in the MDC-T.
Although MDC-T spokesperson, Obert Gutu refused to divulge the agenda of the meeting, claiming it was routine, party secretary-general, Douglas Mwonzora last week said the meeting would focus largely on primary elections.
"Tomorrow's (today) national standing committee (NSC) meeting is a routine meeting of the NSC," Gutu said.
"As you know, we normally hold NSC meetings every fortnight."
The meeting will be chaired by one of Tsvangirai's three deputies, Elias Mudzuri, who is the acting president.
But there is the looming spectre of open rebellion from his counterpart, Thokozani Khupe's backers, who are reportedly plotting to disrupt the meeting, arguing that by virtue of her seniority and having been elected at congress, she should chair it.
The other vice-president, Nelson Chamisa, was left in charge of the MDC-Alliance and preparing for the next elections, while Khupe is currently in charge of party administration.
Two weeks ago, Tsvangirai hinted on his intention to leave power to the younger generation, a statement immediately interpreted to mean he was anointing Chamisa, who turns 40 next month.
In recent days, Chamisa and Mudzuri, who have both indicated their willingness to succeed Tsvangirai, have been embroiled in a cold war of some sort over the race to succeed Tsvangirai, who has been at the helm of the party since its formation in 1999.
Both Chamisa and Mudzuri were appointed last year after Tsvangirai opened up on his health status and in his recent statement, the former Premier revealed he made the appointments with his succession in mind.
The standing committee is likely going to give indications on who takes over from Tsvangirai when he eventually resigns, with the party sharply divided between Chamisa and Mudzuri.
MDC-T national chairman, Lovemore Moyo described those jostling for Tsvangirai's position as misguided ahead of today's meeting, which is likely to be charged.
He said there had been no formal communication from Tsvangirai that he was stepping down.
"The president (Tsvangirai) hasn't formally communicated to the structures of the party (his desire to retire)," Moyo said. "As a party, we have very clear channels of communicating and, as such, there is no such communication to the structures that the president will be stepping down.
"We cannot start jostling for positions based on that statement.
"The president is there and when that time comes, the message will be officialised and for now, that has not happened. "Once he decides to step down, we will be guided by the party's constitution on the way forward, no one individual can decide on that."
He said instead of canvassing, the party's leaders must focus on winning the upcoming elections. "If there are there, then they are misguided," Moyo said.
"They must be focused on voter registration and how to win the elections.
"Once there is a vacancy, the constitution is very clear."
Chamisa is considered the favourite to replace Tsvangirai, but others are rooting for Mudzuri, arguing the former is too young for the post.
Moyo said it did not matter who chairs the meeting, saying there were bigger things to focus on.
He said Mudzuri would chair the meeting, as he was appointed by Tsvangirai.