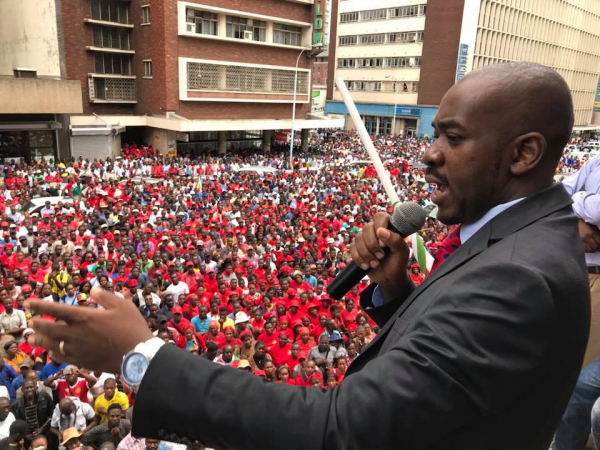 WITH next month's general election date drawing closer, both the ruling Zanu PF and opposition parties have started playing the numbers' game at campaign rallies — with some going an extra mile to bus-in supporters from far-away areas to portray a positive image about the level of their support base.
By Tatenda Chitagu
Over the past few days, both Zanu PF leader Emmerson Mnangagwa and his arch rival MDC Alliance presidential candidate Nelson Chamisa proved to be masters of the trick — judging by the huge turnout at their campaign rallies in Masvingo province.
On Friday, Mnangagwa seemed to have been taken aback by the large crowd at his rally in Masvingo, and even expressed shock at the turnout.
"I am happy, I am happy, I am happy to see such a big crowd. I do not know if there are any people left in the rural areas. The whole of Masvingo is here. I doubt that I will get such a crowd like this elsewhere (at other rallies), I do not know if they will match Masvingo. Only Masvingo can do this," Mnangagwa, seemingly obvious of the rented crowd, quipped.
In haulage trucks, public utility vehicles like lorries and buses from boarding schools, Zanu PF supporters came and packed like sardines. And they formed a sea of people.
This is understandable, given that Mnangagwa's nemesis and main challenger in the polls set for July 30, Chamisa, had pulled a record crowd at his star rallies held a week earlier.
Both Chamisa and Mnangagwa regard Masvingo as their strongholds.
Chamisa comes from Gutu district, while Mnangagwa, who has a farm in Masvingo, is from Chivi district but now staying in Mapanzure, Zvishavane.
But what could have made Zanu PF to up the stakes and liven up was not only to please Mnangagwa, but to counter Chamisa's crowds, especially the big number that turned out at Chiredzi town's Tshovani Stadium when he held the last leg of his rallies.
Chamisa filled the stadium to the rafters and painted the whole of Chiredzi red — the colours of his party.
Interestingly, Chamisa came a week after Vice-President Kembo Mohadi attracted a paltry crowd in the same stadium.
While Mohadi had fewer people at Tshovani — unfit for a rally addressed by a whole Vice-President — it was his earlier rally at Dewure High in Gutu that left him and the provincial leadership with egg on the face.
At the Gutu rally, very few people turned up by the time he had arrived and he had to wait in his car for the crowds to build. Zanu PF leaders had to run around and bus people to add up the numbers before he could address.
But back to Mucheke Stadium, Mnangagwa seemed to have realised that the attendance was too big and too good to be true. He asked those ineligible to vote (children under 18) not to raise their hands as he wanted to make sure the composition of the crowd.
"Do you promise me that here in Masvingo you are all Zanu PF present here and you will vote for Zanu PF? School kids, do not raise your hands, you do not vote. Those who are registered voters, raise your hands. Those who do not vote for Zanu PF raise your hands," he said amid laughter from the crowd.
Asked about the allegations of bussing people to "liven up" when it came to numbers, Zanu PF Masvingo provincial chair, Ezra Chadzamira, did not respond to texts sent on his mobile after ignoring calls from NewsDay.
Some Zanu PF supporters were also injured in a freak accident along the Triangle-Ngundu road after the side doors of a haulage truck they were travelling in suddenly opened while it was in motion.
Masvingo provincial police spokesperson, Charity Mazula, refused to answer questions from NewsDay to clarify the accident.