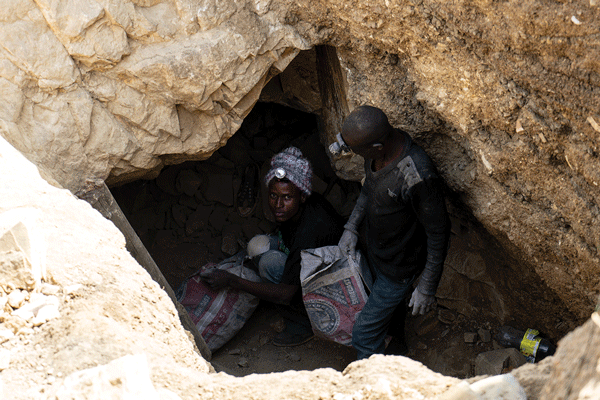 By Simbarashe Sithole
Eight illegal gold panners died on Sunday evening, while two were seriously injured in a mine explosion at Jumbo, Mazowe after another syndicate failed to communicate while blasting explosives underground.
Acting Mashonaland Central police spokesperson Assistant Inspector Petros Masikati confirmed the incident.
"I can confirm that eight people died in a blast at Mazowe mine and two others are currently admitted at Concession hospital and are in a critical condition, one of the miners escaped unhurt," Masikati said.
A witness Gift Zororo told Newsday that team of 11 entered the shaft in search of gold and when they were at level 9 from level 2 another team which was also mining from another end blasted their explosive without communicating which killed their colleagues.
"These guys were 11 when they entered the mine and were coming from level 2, when they were now at level 9 another team blew their explosive without informing them which is a rare incident here at Jumbo teams usually communicate, but unfortunately 8 people died on the spot while two were seriously injured and taken to hospital."
Mazowe Metalonic gold mine rescue team managed to retrieve all the bodies by Monday morning.
This comes a few weeks after the death of five artisanal miners at a mine in Matabeleland South. Another sad reminder of the lawlessness that is creeping into the mining sector in the country, which is fuelled by the political elite with tragic consequences.
Four other people were seriously injured after a tunnel collapsed at the abandoned Nugget Mine in Matobo district earlier this May, trapping illegal miners underground.
According to reports, at least 1 000 people from all over the country had descended on the mine after rich gold deposits were discovered.
The Mines ministry was blamed for the accident because of delays in issuing a licence to the owner of the gold claims to start operations at the mine legally.
Illegal miners took advantage of the vacuum and descended on the mine for rich pickings, but it was always a great risk to carry out undergrounding mining without adhering to safety rules.
The Nugget Mine fiasco was just a tip of the iceberg as illegal mining activities have become a menace in Zimbabwe's gold-rich provinces, including Matabeleland South.
It happened merely four months after 26 people died at Cricket and Silvermoon mines in Battlefields, Midlands.