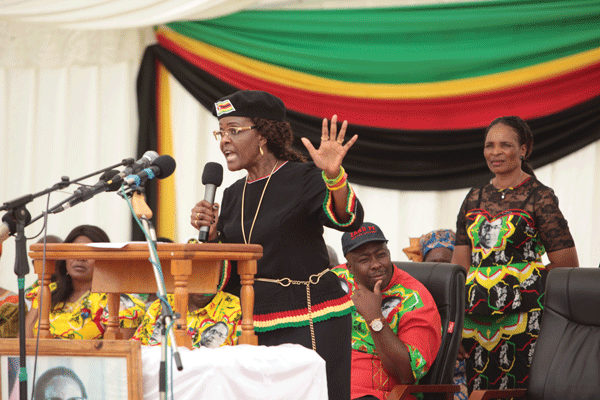 FIRST Lady Grace Mugabe yesterday brewed a shocker when she suggested that even if a dead President Robert Mugabe's corpse is put on the ballot paper, people will still vote for him.
by obey MANAYITI
Grace made the stunning claim while addressing thousands of Zanu PF supporters at St John's Primary School in Buhera, where she blasted unnamed Zanu PF bigwigs for allegedly plotting to dislodge her husband from power.
The First Lady has in the past made numerous controversial suggestions regarding Mugabe's 37-year rule, and at one point claiming Mugabe, who turns 93 next week, will rule Zimbabwe from the grave or from a wheelchair.
She said Mugabe was one of Zanu PF's biggest strengths.
"Our first strength is in President Mugabe. Even if we go anywhere people will respect him," she said, adding even children were aware of his "importance".
Grace said it was surprising to hear people saying she must tell Mugabe to leave office.
"You hear people accusing me of still wanting to continue as the First Lady of this nation, saying that is why I don't want to tell the President to retire. I am not the only one who voted for him.
"Only a fool will say that. We will field a candidate of a corpse on the ballot if God takes Mugabe and people will vote for him just to show how much the President is loved," she said amid thunderous applause from the Zanu PF supporters.
Grace added: "Let's wait for God's time when He decides that Mugabe should stop and then we enter into the race.
But one thing you must not forget is that if you don't have Mugabe's support it will be difficult for you."
She also blasted factionalism within Zanu PF, saying leaders in the party were giving lip service to people. Zanu PF has been embroiled in factional fights pitting Grace's loyalists in the G40 faction against supporters of Vice-President Emmerson Mnangagwa, popularly known as Team Lacoste. Without mentioning names, the First Lady said such people, who have been with her husband since 1980, were not electable and would lose any election even to chickens.
"We are divided because of factionalism. We are divided and down with that. Whoever is engaging in factionalism must stop forthwith. Stop it. We don't want that because it doesn't yield anything," she said.
Grace said for those who want to lead must introspect and vet themselves first. The First Lady said some were just pushing for factionalism because they did not have qualities to lead.
"There are people, who know that if they stand for election, even with a chicken, they will lose. A cock can win against a person who was given dominion over everything and lose," she said.
"I am the First Lady because you elected the President of this nation. Some will be saying Mugabe is old and he must leave. I am the one who must say Mugabe should leave so that I take over because I didn't start with him in 1980. I don't want to be told by anybody else that the President has overstayed yet they started together in 1980."
Many will regard this as taking potshots at Mnangagwa, who has been in government since 1980 and is often criticised for being unelectable.
Grace said all Zanu PF leaders, who started with Mugabe at independence in 1980, had no right to say the veteran politicians was now too old as they were equally old.
"In Zanu PF, we have an upper hand, but sometimes we don't see it. We want to throw away talents we received from God. We have our talent in our leader President Mugabe, the iconic leader," she said
"That man is irreplaceable. That is the truth whether we like it or not. What is in him came from heaven. If you go and vote for Mugabe you will not know that it is God who is instructing you to do that."
Grace claimed when MDC-T leader, Morgan Tsvangirai won the first round of the 2008 presidential elections against Mugabe, God wanted to teach Zimbabweans a lesson.
Grace also took a dig at Zimbabwe People First (ZimPF) leader, Joice Mujuru, mocking her as "Queen Bee."
She said a queen bee always mates in the open with several male bees fighting to mate with it.
Grace said Mujuru squandered an opportunity to apologise to Mugabe and be pardoned so that she would be buried at the National Heroes Acre.
Throughout her long speech filled with insults targeting Mujuru, Grace threatened to expose corrupt activities that were done by the ZimPF leader during her time in Zanu PF.
Grace also gave a stern warning to Cabinet ministers, who are lining their pockets at the expense of ordinary people.
She said politicians must not take people for granted and should must always be in contact with them and respect them so that Zanu PF remains in power.
Despite the government always saying it was improving the operational business environment, Grace admitted that her Gushungo business empire in Mazowe was facing several challenges but vowed to keep it for the sake of employees.
Several ministers among them Local Government minister Saviour Kasukuwere, Energy minister Samuel Undenge, Information minister Chris Mushohwe and Women's Affairs minister Nyasha Chikwinya attended the rally where Grace donated several items including rice, maize, cooking oil and second-hand clothes to Buhera villagers.