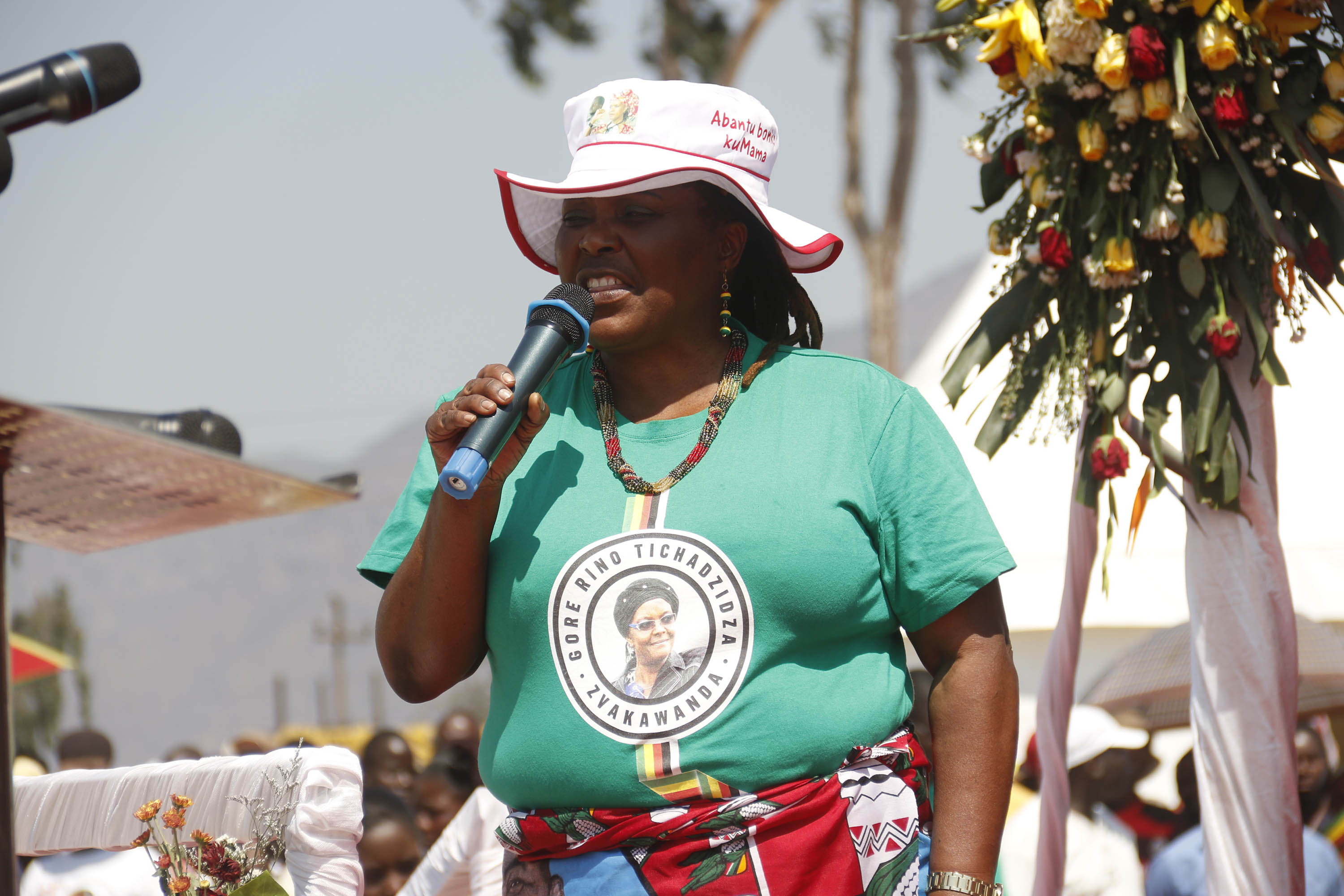 MANICALAND Provincial Affairs minister Mandiitawepi Chimene has once again urged President Robert Mugabe to crack the whip and fire senior officials angling for his position.
BY KENNETH NYANGANI/RICHARD CHIDZA
Chimene was briefing Mugabe at the official opening of a community information centre on the outskirts of Mutare prior to a youth interface rally in the eastern border town.
Mugabe sat stone-faced at the top table along with his wife First Lady Grace Mugabe, Vice-Presidents Emmerson Mnangagwa and Phelekezela Mphoko as well as other senior officials.
Grace, hitherto associated with a faction of Zanu PF known as G40, and Mnangagwa, allegedly behind Team Lacoste, are said to be locked in a bitter tussle to succeed 93-year-old Mugabe.
"Divisions are starting from the front there. We spoke about Mai Mujuru (Joice, former Vice President and National People's Party leader) publicly and she is gone and if there is anyone who thinks that his time has come, he should also go. Some of you think I have taken weed, do I look like someone who took weed today?" she asked.
Mujuru was kicked out of Zanu PF in the brutal purge that rocked the governing party beginning late 2014, but factional fights have continued unabated. It is the second time inside two years that Chimene has attacked Mnangagwa over what she claims are his ambitions to take over from Mugabe.
Last year, Chimene launched an open attack on Mnangagwa accusing him of plotting to topple Mugabe and demanding that he be fired.
Other names that have also come to the fore are those of Defence minister Sydney Sekeramayi and G40 kingpins Local Government minister Saviour Kasukuwere and Higher Education minister Jonathan Moyo. Kasukuwere's political life hangs in the balance after countrywide demonstrations by party members demanding his expulsion or demotion.
"We end up seeing crocodile smiles because of the divisions," Chimene said.
Mnangagwa is nicknamed "Ngwena" (crocodile) by his adversaries in Zanu PF.
Chimene also accused ministers in the province of looting large tracts of land.
"Our children are worried where our party is going. I always speak the truth and I will continue to speak the truth. If it means going down with you, we will fall together Cde President," she said.
"Ministers are grabbing land and they are failing to use the land. War veterans are crying foul because they do not have land."
The Provincial Affairs minister singled out Nyanga North lawmaker Hubert Nyanhongo.
"There are MPs who are failing to deliver their duties. I am holding rice for a certain MP who is failing to give it to people in his constituency. The MP is from Nyanga North, Nyanhongo. He was arrested after he was found in possession of a pangolin. I asked him how about if you are bitten with a snake," Chimene said.