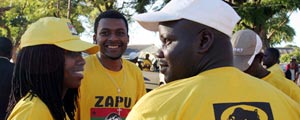 THE Mthwakazi Youth Leaders Joint Resolution – a coalition of youth organisations in Matabeleland – has threatened to alienate and de-campaign Zapu over its suspension of the party youth leader Mqondisi Moyo last week.
Report by Staff Reporter
Moyo was suspended over allegations of gross insubordination and is expected to appear before Zapu's disciplinary committee on Monday. He has, however, vowed not to attend the hearing, saying his fate was already cast in stone.
The coalition spokesperson Thandolwenkosi Dube said: "The suspension of the Zapu national youth representative in the national executive, (Mqondisi) Moyo, for the truth he utters and the cause he stands for, is a clear sign of an ailing Zapu leadership," he said.
"We, the Mthwakazi Youth Leaders Joint Resolution, standing in unity, in representation of our youth organisations, stand resolute by our true cadre, Mqondisi Moyo, and all our comrades in the Zapu Youth Front, with whom we have challenged issues that affect the youths of our region.
"We're blindly behind their decisions.Further, we affirm that, with these acts of lack of leadership, the Zapu administration has guaranteed itself radical opposition from this generation and in as such, strategic measures are to be implemented to isolate it from the youth of today. The time is ripe for a radical generational change in Mthwakazi's political playfield."
But Zapu spokesperson Benson Dube dismissed the youths' threats, saying: "Only a person who is outside the party can say that.  We know that it is only suspended people (like Moyo) who can say that about the party. Otherwise the party is intact."