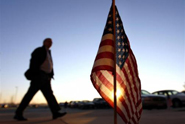 WASHINGTON — The United States on Tuesday said it was "deeply concerned" by lack of transparency in preparations for Zimbabwe's July 31 general election and called on the government to ensure the vote was peaceful, fair and credible.
Report by Reuters
State Department spokesman Patrick Ventrell said elections that were not seen as credible would have implications for US sanctions against Zimbabwe, suggesting Washington could maintain or increase sanctions depending on the election outcome.
The run-up to the election has been peaceful, but Western critics and the opposition say the process has been poorly planned, underfunded and plagued with irregularities, increasing fears of a repeat of the violence and bloodshed that marred the 2008 vote.
"We are deeply concerned about the lack of transparency in electoral preparations, the continued partisan behaviour by State security institutions and the technical and logistical issues hampering the administration of a credible and transparent election," Ventrell told a daily briefing.
Ventrell said a troubled election risked undermining political and economic progress Zimbabwe had made since the formation of a unity government after the disputed 2008 vote. He noted that the economy showed signs of recovering from economic mismanagement and hyperinflation.
The election will see the third attempt by Prime Minister Morgan Tsvangirai to unseat President Robert Mugabe (89), who has ruled Zimbabwe since its independence from Britain in 1980 and is Africa's oldest leader.
Mugabe and Tsvangirai were forced into a power-sharing government after the 2008 polls.
Tsvangirai had sought to delay the election to allow more time for reform of the security forces and State media.
Ventrell said the US had voiced deep concern and disappointment that preparations for the elections had not followed a 2011 roadmap agreed with the 15-nation Southern African Development Community (Sadc), which chartered a course of reforms to improve conditions for elections.
The proposed reforms included improved voter education and registration, inspection of voters' rolls, and changes to the Public Order and Security Act.
"We call on the government, Sadc and the African Union to accept nothing short of internationally accepted standards of electoral credibility, fairness and transparency," he added.