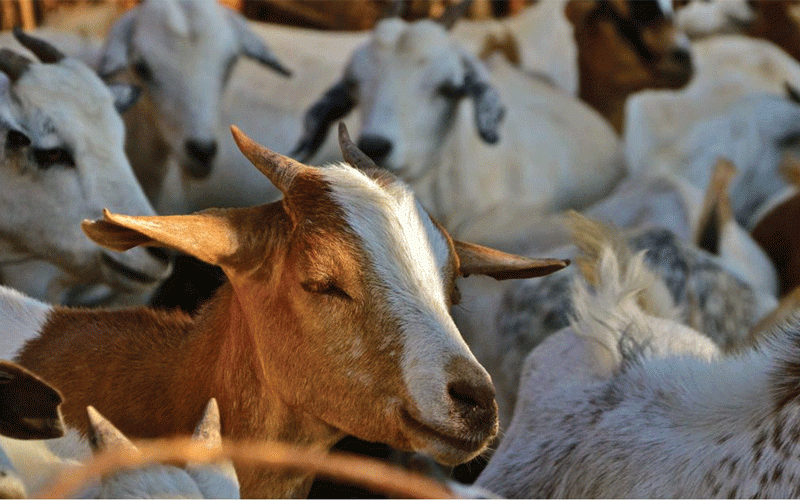 WE condemn in the strongest possible terms the cruel and inhumane slaughter of livestock that occurred in Chegutu on October 19 2022 at the hands of personnel from the Department of Veterinary Services under the guise of enforcing laws on animal movement.
Whilst we are fully supportive of the need to enforce the Provisions of Animal Health (Movement of Animals) Regulations 1984 to protect the nation from disease outbreaks such as foot and mouth, we cannot accept the barbaric manner in which 81 goats were slaughtered in what appears to have been a cruel and dramatised event for the purposes of creating social media content.
The disturbing and graphic images captured on the video will no doubt be inadvertently viewed by children as well as persons of a sensitive disposition and could have lasting detrimental effects.
We are further concerned that those individuals partaking in this barbaric and inhumane act were doing so as supposedly trained and qualified representatives of the Department of Veterinary Services. If this was the case as it so appears it now brings into question the training and qualifications held by these persons in addition to their complete and total disregard for the various rules, regulations and laws of Zimbabwe that they have clearly violated.
It is our ardent insistence that all persons representing the Department of Veterinary Vervices who were involved in this incident face full disciplinary measures and where applicable be prosecuted for their illegal and shocking conduct.
Zimbabwe has always maintained exemplary standards in veterinary care and animal health, unfortunately these recent events have now raised many questions that will need answering by the profession. - Zimbabwe National Society for the Prevention of Cruelty to Animals
Key takeaways from by-elections
THE 2022 by-elections have been a test of Zimbabwe Electoral Commission (Zec)'s ability to hold free, fair and credible elections following a disputed 2018 Harmonised election and a suspension of electoral activities following the COVID-19 lockdowns.
Pre-election violence casts dark cloud over by-elections
The violent assault on Citizens Coalition for Change (CCC) Member of Parliament Jasmine Toffa and campaign team, cast a devastating shadow over the October 22 by-elections. CCC activists in Insiza, Chirumhanzu and Matobo were assaulted ahead of the by-elections, while the NCA candidate for the Mutare Municipality by-election was assaulted on the eve of the by-election. No arrests have been made. The increase in incidents of violence and the reluctance by State institutions to hold perpetrators to account casts a dark cloud on the impending 2023 harmonised election, with violence now a tool to systematically disrupt opposition campaigns.
Urban-rural divide stronger
The election results show that Zimbabwe is still divided politically. In the only by-election in an urban area, the CCC won, while Zanu PF dominated elsewhere in the rural areas. CCC's loss in the Matobo RDC, and Guruve RDC by-elections marked a significant defeat for CCC's reputation as a resurgent party. CCC's defeat in the rural areas raises questions about the impact of their election campaign strategies, particularly for candidates in rural communities.
Zanu PF penetrates urban areas
In an environment where the last presidential elections in 2018 was won by a razor-thin margin, the Zanu PF party has some cause for optimism for its election performances in urban areas.
While their electoral performances have been attributed to politically motivated violence and intimidation and accusation of corrupt practices to skew the fairness of the electoral environment, some of it has to do with the manner and strategies Zanu PF has in galvanising its supporters for the vote. The performances of Zanu PF in the by-elections sets the tone for a heated 2023 harmonised election that could be determined by the youth vote and turnout rates in urban areas.
The 2023 election unlikely to ease turmoil
Beyond being contentious, the post 2018 by-elections have been used as a test for Zec on implementing reforms in the administration of elections in order for elections in Zimbabwe to pass the credibility test. Zimbabwe may, however, host another hotly contested general election in 2023 as a result of the polarised nature of its politics, the failure of state institutions to prosecute those accountable for election-related violence, and a lack of voter confidence in the electoral commission's independence. - ERC
In response to Flash floods hit Beitbridge, TREVOR RINGISAI MAKONI says: God protect us from these natural disasters because our government does not prioritise our safety, they value chiefs and headmen who they shower with freebies especially towards major elections.
In response to Zanu PF ban on NewsDay raises stink, RINGISAI MAKONI says: Zanu PF is not a clean organisation. It does not believe in public scrutiny. If you raise a different viewpoint, you are labelled a sellout.
MICHAEL MUTSENGI says: NewsDay staffers should not lose sleep over a ban by Zanu PF because there is nothing to write about at their congress except blaming Citizens Coalition for Change leader Nelson Chamisa for their misgovernance.
In response to ED calls for peace, tolerance, STRANGER KAZEMBE says: President Emmerson Mnangagwa says all the right things and does all the wrong things. If he really means what he says in public, he must release all political prisoners. We now know his language, he does the opposite of what he says in public.
CHARLES MAGAGADA says: President Emmerson Mnangagwa assumed power through violence and how can he order his supporters to engage peacefully, yet he knows his position is under threat?
In response to Chevrons stun Pakistan, CECILIA SEWERA says: Well done Chevrons. The team is defying all odds. Pakistan were the favourites, but we defeated them. Well played team Chevrons.
JEREMIAH NYADZAYO says: Zimbabwe has huge talent and lots of talented youths, but we lack political leadership.
ISAAC MAKUNA MAKAVANGA says: The Chevrons brought something to smile for the nation. Go all the way and bring the trophy home gentlemen. We are so confident and proud of you.
In response to Anti-sanctions march a gimmick: Zapu, REX CHISALE says: We want to vote in a free and fair atmosphere.
Related Topics