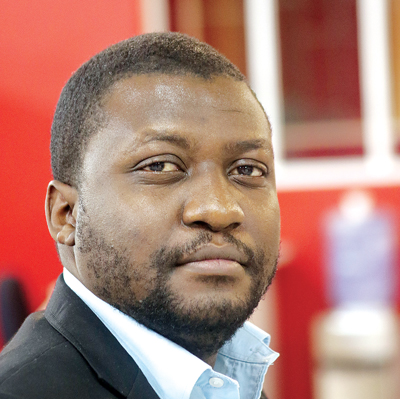 Once again — and not for the last time — a Highlanders versus Dynamos football match ended in violence with the usual accusations and counter accusations of referee bias and oppression being the order of the day.
Candour: NQABA MATSHAZI
Highlanders' fans are convinced there is a conspiracy against their team and have long noticed what they consider a pattern that referees are biased against them and playing against Dynamos is increasingly becoming a fruitless endeavour, as Bosso is handicapped even before the match begins.
On the other hand, Dynamos supporters question why Highlanders fans seem to always resort to violence when things do not go their way, which in the end will cost their team monetarily and ultimately the match.
While these are arguments that can go on until the cows come home, the reality is they are superficial and do not address the cause of the hostility between the supporters of the two teams.
The violence between the two sets of the teams' supporters, I argue, is a microcosm of the country's failure to unite and there is a clear tribal and regional schism, which finds expression during matches between Dynamos and Highlanders.
The build-up to the matches is often couched in tribal terms and is seen as a battle between the Shona and the Ndebele on one hand and while on the other, Dynamos is seen as the establishment team and Highlanders the opposite.
Sentiments that cannot be expressed in certain situations suddenly find space when Highlanders and Dynamos play and the result is always a tinderbox, which often results in violence.
For example, when the violence erupted at Barbourfields Stadium, I heard someone say, "The Ndebeles have started," without realising the causal tribalism, which has become a hallmark when the two teams meet.
It goes without saying that for that person Ndebeles are associated with Highlanders and by extension, Shonas with Dynamos and this is what is tragic about Zimbabwe.
We are stuck in a tragic ethnic dichotomy, where we treat each other with suspicion, contempt and sometimes naked hatred, because we have failed to unite.
The only effort at addressing the anger that is bubbling beneath the surface was the 1987 Unity Accord, which increasingly looks farcical, which only brought Zapu and Zanu PF together but failed to deal with the ethnic tensions that continue to this day.
A big problem with Zimbabwe today is that we have adopted the ostrich mentality, where we hide our heads in the sand and pretend such issues do not exist and then we fail to address them, we act surprised when they spring up at football matches.
I saw one leaked WhatsApp message that said Highlanders fans were thugs and Gukurahundi should have wiped them out, quite a sick thing to say, but which could be instructive of our psyche as a nation.
For their part, Highlanders fans also have very nasty chants, where they accuse Dynamos fans — Shonas — of being complicit and active in the Gukurahundi killings, which reveals that even if we left the 1980s 30 years ago, there is still a festering wound that will not disappear because we pretend it did not happen.
It is also unhelpful that a State media columnist — Nathaniel Manheru, known to be a senior civil servant — gets acres of space in a public medium to refer to the 1980s killings as the "so-called Gukurahundi", blatant denialism, which in other countries is criminalised.
While we can sit on the sidelines, pontificate and point fingers at who is responsible, the need for peace and reconciliation has never been so apparent and that is one way we can fix this broken country.
There is clearly discontentment among a section of the population and there is need to sit down and see how it can be addressed rather than treating the symptoms, which the fans' violence is.
Parliament has haggled over the National Peace and Reconciliation Bill, which has been rejected at public meetings, but while the government dithers on this, the reality is that the nation continues to bleed from this division.
It is clear that the government does not want a Bill that will expose its violent past — and I daresay, present — and will do everything to frustrate it, but this does not help peace-building initiatives in the country and there will always be latent hostility and anger.
There is no appetite to address the Gukurahundi issue and this only creates hate and anger, which find expression in most unlikely places and perpetuates the cycle of violence, which has been an earmark of this country from independence to date.
It is not only Gukurahundi that needs addressing, there is the electoral violence of 1990, the food riots of 1998, the bloodletting of the 2002 and 2008 elections and Operation Murambatsvina of 2005, which need to be dealt with and ignoring all this is just papering over cracks that will continue to haunt generations to come.
This is not to excuse the violence at Barbourfields Stadium last Sunday, but rather to look at the root cause of why games between Highlanders and Dynamos are so emotion-filled and are likely to end prematurely.
What sometimes could be a genuine mistake by the officials is now seen through the lens of continued oppression and marginalisation of a tribe and the Matabeleland region.
Games between Highlanders and Dynamos are more than just football, they are political, and in the build-up to the games the discourse is dominated by politics rather than sporting issues.
As long as we have not dealt with the fundamentals, which revolve around genuine unity, peace and reconciliation, we can resign ourselves to the knowledge that more Highlanders and Dynamos games are likely to end prematurely and in violence.
The answer lies in our unresolved past.
Feedback: [email protected]