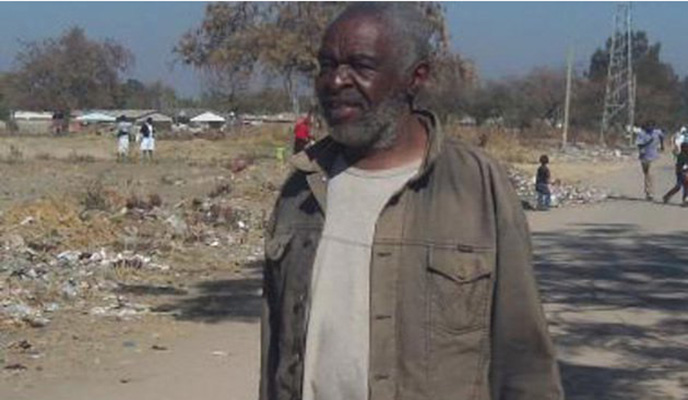 CHITUNGWIZA residents have often seen Bhonzo – as veteran actor Lawrence Simbarashe is popularly known after featuring in the television comedy Bhonzo Nechikwata a few years ago – standing by the roadside flagging down cars heading for the city centre.
BY PHILLIP CHIDAVAENZI
Once a lumbering giant, the turn of events have clearly taken a toll on his physical stature, as he is now a pale shadow of his former vibrant self.
Pointing out the hilarious actor to a stranger is often first met with disbelief, as the man does not seem to be anywhere near an idol of the thousands that sat glued to their television sets with the actor launching them into fits of laughter.
Lawrence Simbarashe
In an unforgiving industry that hardly celebrates its heroes, Bhonzo's story is a heart-breaking tale of sorrow, misery and pain, as St Mary's residents and die-hard fan of Bhonzo's theatrics, Simon Macheka, contends.
"This man's situation is heart-breaking. He has done a lot for our acting industry, but it appears as if he has nothing to show for it," Macheka said.
From as far back as 2011, Bhonzo – born Lawrence Banda – was often spotted walking along Harare's streets with a Bible in his hand. He was quoted back then saying the Bible had become his friend.
"The Bible is now my friend and I read it every time. I am not confined to any church, but I believe God is there for everybody," he said.
Here is a man who should have been celebrated for his immense contribution to local film, but fate and ill-fortune seem to have conspired to shuffle him to the margins of society.
If Bhonzo was in South Africa – or perhaps in Hollywood – his story could have read differently. For an actor who has landed roles in over 15 local and international films including King Solomon's Mines and Flame, besides featuring in several local advertisements, his situation is an indictment of local arts and culture industry.
With the gift of the garb, Bhonzo is an old war horse whose experience added value to several companies' marketing strategies as they dashed for his signature, engaging him to feature in their television commercials.
Reports say he struck a golden path and even purchased a fleet of vehicles while living comfortably on his art.
His cry following a series of misfortunes – including the destruction of his house in a fire a few years ago – has, however, not been of one forgotten in the wilderness. It has attracted filmmaker Marlon Murape to take notice and throw him a lifeline in his hour of need.
Could this be the chance that Bhonzo needed to bounce back into the limelight and perhaps see a turnaround in his fortunes?
Another bite of the cherry
Murape believes this chance might just be what the doctor ordered for Bhonzo's ailing career.
"We realised that there is a tradition that prominent actors, who were vibrant in the 1980s, have gone quiet so we thought of bringing him on board," Murape told NewsDay recently.
"This was after he had approached us . . . Bhonzo has been looking for a way to get back into acting and is currently doing rehearsals for his role."
The film's production team has since started shooting and the development seems to have injected a new lease of life into the actor, who is traditionally known for his witty comic lines and booming voice.
The latest developments are expected to bury his forgettable past tragedies and set him on course for a better day.
Trail of misfortune
The former radio presenter has reportedly battled high blood pressure for several years, and losing much of his household property worth thousands of dollars accumulated over the years when a raging fire consumed his house in 2011 left him on the ropes.
It was then, Chitungwiza residents say, that he started wandering around the streets of Harare and the dormitory town like an actor who has lost his lines on stage.
Although it remains a mystery how he ended up in such dire circumstances – living like a hermit – relatives allegedly claimed that while he was cruising at the peak of his career, he spent his time drinking in bars dotted around town.
According to those in the know within St Mary's, things took a turn for the worse around 1992, as fame was said to have gone to his head after he got rich pickings from the companies he had struck marketing deals with. He could even afford a lavish lifestyle.
"He earned a lot of money and he would not be a beggar today if he had managed his income well… Things were still well when he left his job at ZBC because the commercial deals kept coming his way. He was a real celebrity," a neighbour said.
It is understood that when sickness set in, it arrested his voice – his only tool of the trade – and he consequently lost many of the contracts that had sustained him for years and started selling some of his property until he hit rock bottom.
His family life remains a closely guarded secret. NewsDay Weekender, however, understands that he broke up with his first wife in the 1980s before marrying his current wife in 1991.
During a recent "rescue" mission spearheaded by Highfield West legislator Psychology Mazivisa, Local Government minister Saviour Kasukuwere pleaded with Bhonzo's wife, Pain Migura, to lend her husband a helping hand in his hour of need.
"Mai Bhonzo we are begging you to take care of our old man and give him the necessary support he needs, that is only what we are asking of you. Leave the rest to us," Kasukuwere was quoted saying.
This was after the delegation – which also included actor Timothy "Timmy" Tapfumaneyi and businessman Stanley Kasukuwere and socialites Thomas Chizhanje and Nomathemba Ndebele — donated goods to Bhonzo following reports of how his life was spiralling out of control.
It is understood that the veteran actor has two children Lawrence (Junior), a medical doctor in UK and Liona, based in New Zealand, from his first marriage, but those close to the family remain tight-lipped on what led to the breakdown of relations.
From his second marriage, Bhonzo has two children Tatenda, a student in South Africa, and John.
At the peak of his adversity in 2011, Bhonzo was denied access to the VIP section at the Chibuku Road to Fame music finals at the Glamis Arena after trying to access the section without accreditation.
Bhonzo even charged at the security personnel claiming he had free access to the VIP section on the strength of work he had done for Delta Beverages in the past. He finally gained entry after the intervention of some Delta Beverages officials.
The future
Prospects for the future are bright, especially after landing the new role in the new local 80-minute film, Mapeto, which is set to premier on April 23 this year. The film script was written by Lloyd Shumbayaonda.
Meanwhile, Tapfumaneyi – popularly known as Timmy – recently said he has penned another drama titled The Return of Timmy naBhonzo, which will feature Bhonzo once he has received medical attention since "that is one way mudhara (Bhonzo) will be able to get income and desist from begging."