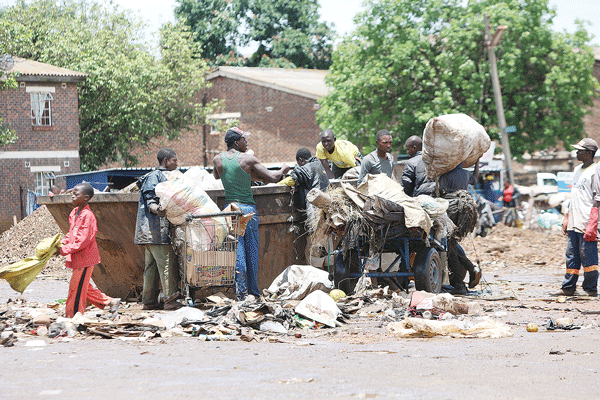 THE Environmental Management Agency (EMA) yesterday joined Harare City Council in a clean-up campaign at Mbare Farmers' Market, as part of efforts to curb the typhoid outbreak.
BY MUNESU NYAKUDYA
Council director of works, Phillip Pfukwa, admitted that the local authority was falling behind on its garbage collection schedule due to shortage of vehicles, hence, the mushrooming of illegal dumpsites across the city.
"I want to concede that council was not meeting its collection schedule here and there so there tended to be a lot of dumps," he said.
"Initially this was a farmers' market, but is now operating as a retail market. A farmers' market is where the farmers bring in their products and sell to retailers. They are supposed to bring their products and sell them in bulk between 4:30am and 11am. When they are done, the council is supposed to clean the area in preparation for the next day. Unfortunately we have lost that cycle, where the residents were now beginning to sell within the farmers' market."
EMA spokesperson, Steady Kangata, said the market's car park had been turned into a vending place with some people sleeping on garbage.
"This is a starting point for us to get it resolved. We are cleaning all the illegal dump sites so that maybe we might have a clean and safe environment," he said.
Mbare residents said they were happy with the initiative.
"We are happy with what the council has done for us. We have been looking forward to this for a very long time and finally it has happened," vice-chairperson for Mbare Ward 2B, Isaac Simon, said.
Mbare Ward 4 chairperson, Ruben Chohombe echoed the same sentiments saying: "The city council should come and clean this place on a weekly basis because this is the current hub for Zimbabwe's economy."