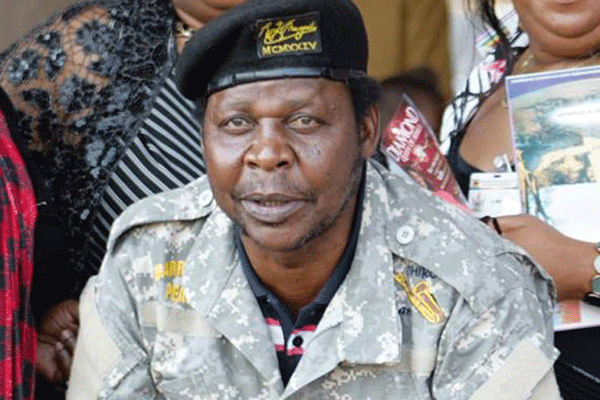 "KUTORA minda kukanganisa, aiwa hakusi kukanganisa…" (It's not wrong to reclaim the land) sang the late musician Dickson "Comrade Chinx" Chingaira in one of his songs. The musician was one of the leading campaigners of government's controversial fast-track land reform programme.
BY JAIROS SAUNYAMA
It was not surprising that he was one of the programme's beneficiaries after he was allocated a farm known as kwaMapuranga, in Marondera, a farming town located 75,5km from Harare.
A recent visit to the farm, however, proved that the sickness that had stalked him before finally killing him, also snatched life out of the farm which has a huge potential for economic production.
Touring the farm, one gets the impression that perhaps Chinx was more of a musician than a farmer.
Despite a yet-to-be completed five bedroomed house, a pole and dagga kitchen and chickens, there is nothing to write home about. The land lies fallow with no indication whatsoever that any farming ever took place.
Chinx died virtually a pauper after seeing out his last days on donations from well-wishers.
His music was more compelling at state functions with little coming out of sales and live performances, leaving the husky-voiced musician with no option but to employ other tactics of survival including commercial farming.
Chinx breathed his last on June 16 at West End Hospital at the age of 61 after a long battle with leukaemia. He was buried at Glen Forest despite calls by family and fans that he should be declared a national hero and buried at the Heroes Acre.
NewsDay on Thursday visited the farm in Marondera and observed that despite the presence of a 25-year-old caretaker, the property was in absolute neglect.
With the surrounding farms bubbling with life with tobacco barns, wheat and maize stalks in the fields, the story was different at Chinx's farm.
At the entrance, a telephone pole fell and nobody attended to it, making it dangerous for those who might access the homestead at night.
After hours of trying to establish the whereabouts of the caretaker, some people could be seen gathering firewood from the few trees that remain on the farm.
Tongai Puzani, who said he was the late musician's nephew, arrived on a bicycle with sorrow written all over his face. His tale of how the Chingaira family had not visited the farm in a long time was heart-rending.
He revealed that he was struggling to make ends meet, despite alerting his aunts in Harare about his plight.
"I am struggling to make ends meet here and life is tough for me. I came here when the rain season was over and could not grow any food crops. I am surviving by the grace of God," he said.
"I grew some tomatoes and I have been doing barter trade with them for mealie-meal while I sell some to survive."
Puzani said in his communication with the late musician's family, they had promised to visit the farm soon.
"They say they are coming but they haven't. The last time I called them they said they were coming soon, but they did not.
"I will wait for them until they do come this side, I cannot leave because this is my home too," he said.
Puzani said he had to travel from Dhirihori (a resettlement area in Marondera East) to come and live at Chinx's farm during the time his health had deteriorated.
Asked on the cause of the fire that had razed the farm, Puzani said an unknown person reportedly burnt some litter in the nearby farm, resulting in veld fires crossing over to the farm.
"It was a busy day, I had to be assisted by neighbours and prisoners from Ridigita to put it off, but the damage was already done," he said.
He also admitted that firewood poachers were stripping the farm.
"As for people stealing firewood it is true, when I arrived here I realised that a number of trees were chopped down."
The farm is situated near Ridigita Farm Prison that is owned by the Zimbabwe Prisons and Correctional Services department.
Asked why there was no cattle that could be seen milling around the farm, Puzani said that Chinx had some cattle that are reportedly being kept at the nearby Nyakurima farm.
According to a reliable source, the late Chinx was not into serious farming, though he was a beneficiary of the agriculture mechanisation programme. The source revealed that some of the equipment he secured during the programme — including a tractor — was attached by the messenger of court after he failed to settle a debt with a local bank.
For now, the banana plantations which are a few metres from the homestead's well, will soon dry up as Puzani is busy selling tomatoes for survival.
Roger confirm? It is confirmed, Chinx farm will be soon history if the family continues to ignore its existence.
But perhaps there is still a glimmer of hope, One of Chinx's two widows, Patricia Makoni, eventually visited the farm a few days ago.
She confirmed yesterday that the farm was in bad shape and indicated that the family was planning to inject some life into it.
"We visited the farm recently and I can say we are very interested in farming. It is only that things were not well from Baba's (failing) health to his funeral. A lot has happened at the farm, including vandalism," she said.
"Some of the things happened while Comrade Chinx was alive and each time reports came that something has been stolen at the farm, he would end up at West End with hypertension." She also confirmed that locals have been stealing firewood from the farm but stressed that they would do everything it takes to revitalise the farm.
"As a family, we will do whatever it takes to put the farm into good use. And this is the reason we had to visit it the day before yesterday. It is only that we were going through a lot as a family. In Shona they say munhu akafa anoenda nezvinhu zvake, but we are saying we will do our best as far as production is concerned at the farm," she said.