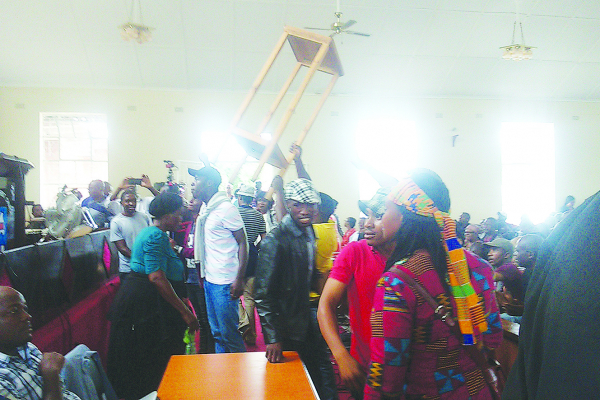 WAR veterans in Matabeleland North province have called on political leaders and Cabinet ministers from the province to rein "rogue" Mthwakazi activists who continue to disrupt National Peace and Reconciliation Commission (NPRC) meetings.
BY SILAS NKALA
The war veterans said the activists were disadvantaging Gukurahundi survivors who wanted to participate in the NPRC's outreach programmes.
The call came in the wake of the alleged disruption of two NPRC consultative meetings in Bulawayo and Lupane by the Mthwakazi activists over the past few days demanding equal representation of Ndebele officials in the commission.
Earlier this year, the group stormed a State function addressed by President Emmerson Mnangagwa at the Zimbabwe International Trade Fair and threatened to disrupt the proceedings, accusing him of spearheading Gukurahundi massacres.
Yesterday, three war veterans from Matabeleland North. led by former Bulawayo war veterans vice-chairperson Stanley Ncube, told Southern Eye that they would not continue to stand and watch as the secessionist activists "continue with their wayward behaviour".
"We have a problem on the Gukurahundi issue and government. People have spoken a lot about it and this phenomenon happened," he said.
"The new government admitted the occurrence and the President is willing to meet the people for a talk to resolve the impasse and see how victims may be assisted. But now there are certain elements or activists calling themselves Mthwakazi.
"We do not support the way they do things. To the local political leadership of the country, we ask why they are silent when these people disturb government processes."
Ncube said the government must deploy enough security to deal with such elements and also involve the war veterans in the whole NPRC programmes to prevent future disruptions. "Why are these boys disrupting these meetings? Who is sending them? What are they hiding about Gukurahundi? We did not see them during Gukurahundi, we did not see them make noise when (former President) Robert Mugabe who did not want to address the issue was in power. Now, there is a leader who wants this issue solved, they start making noise and disrupting the process," Ncube fumed.
"Leaders in Matabeleland are a big disappointment. Why are they silent when these boys make all this unnecessary noise? Do they agree with what they are doing? The war vets do not agree with this. If they are paid to do what they are doing, they must return the money or else as war vets we will deal with them."
He said political leaders in the government should stop concentrating on getting money in their pockets, but represent the people.
"Leaders seem to be concerned about making money and ignore such bad things that are happening around here. We want proper leadership who represent us not those who represent their families and their stomachs."