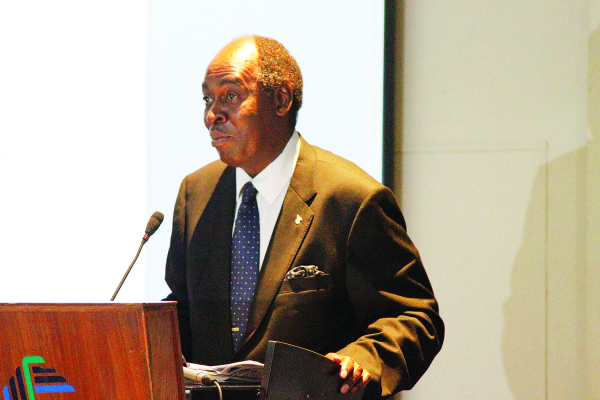 Deputy chief secretary in the Office of the President and Cabinet, Christian Katsande has been redeployed to serve as Zimbabwean ambassador to London by President Emmerson Mnangagwa, NewsDay has learnt.
BY RICHARD CHIDZA
Katsande, a retired soldier is a former military attaché to Britain, where he served as a diplomatic green-horn in the 1980s.
"He (Katsande) has already presented his credentials and is set to start work on April 1. It is part of the new beginning and Britain has already accepted him as Zimbabwe's new envoy in London," a Foreign Affairs ministry source said.
Foreign Affairs minister Sibusiso Moyo confirmed the appointment.
"Correct, he (Kastande) will be our new ambassador. He will be starting soon, everything has been done," he said yesterday.
Since the fall of former President Robert Mugabe last November and Mnangagwa's rise to power, Britain has sent two envoys to Harare, including Minister of State for Africa, Harriet Baldwin, last month.
Mnangagwa has moved to mend fences with Britain since taking over power in November last year and Katsande's appointment was part of government's measures to "put the past behind us".
Britain is critical to Zimbabwe's efforts to return to the international fold after years of frosty relations with the West.
Mugabe's policies such as the land reform programme, violent electoral processes and human rights abuses turned Zimbabwe into an international pariah that Mnangagwa is now working to reverse.
In 2016, Britain rejected another deputy chief secretary to the President and Cabinet, Ray Ndhlukula reportedly because of his controversial acquisition of a farm belonging to a white farmer in Matabeleland South.
Ndhlukula was involved in a messy court wrangle with former Centenary Farm owner, David Connolly, which ended with last week's High Court ruling in favour of the high-ranking civil servant.
Under the Vienna Convention on diplomatic relations, countries are allowed to reject envoys proposed by other states.
Article 4 requires that a "sending State must make certain that the agreement of the receiving State has been given for the person it proposes to accredit as head of the mission".
The convention adds that a "receiving State is not obliged to give reasons to the sending State for a refusal of agreement". This is rare, however, and reports in Britain at the time claimed the European country "rarely objects to the choice of foreign ambassadors".
Zimbabwe has not had a representative in Britain since Gabriel Machinga's tour of duty ended over two years ago and the still-borne bid to appoint Ndhlukula by Mugabe in 2016.