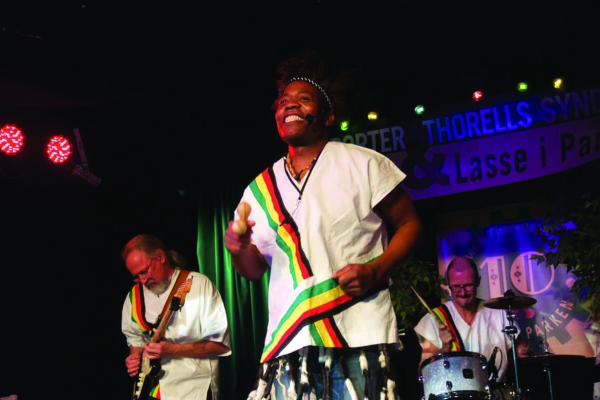 MULTI-TALENTED artiste, Luckson "Manlurkers" Chikutu (pictured), who is based in Sweden, has dropped a new 16-track album, Ndundu-Madhaiza, jam-packed with songs that reflect on his past as well as preservation of the country's traditions.
By LIFE & STYLE REPORTER
Chikutu, who recently launched a book titled FlashBack Identity told NewsDay Life & Style that living in Europe has taught him a lot as far as music production is concerned. He said he will continue releasing albums in a foreign land to perfect his skills, which he will later impart to young local musicians when he returns home.
"I will continue releasing albums in a foreign land because I want to adopt and develop my skills in cultural activities. The music quality in Europe is more advanced, that is what I really want to learn and share. I would like to bring development to Zimbabwe when it comes to producing and promoting music at a lesser cost. I want to share my experiences with Zimbabwean people. It is also my wish for our traditional music to penetrate the overseas market," he said.
Chikutu is also the man behind the famous Zimbabwe Music Festival Bira (Zimfeb) festival that has become dormant due to financial constraints.
The musician, who successfully invited local mbira artist to Sweden for some cultural exchange programme some years back, said the album title Ndundu-Madhaiza was inspired his parents' nicknames.
"My father was called Ndundu, a nickname he earned for his soccer playing skills back in Gutu, while my mother was called Madhaiza due to her dancing skills. It is a flashback project. I am interested in bringing back my old tradition way of doing things," he said.
Chikutu said he would use social media platforms and online service to market his music back home.
His other albums include Macharangwanda, Pandiri, Madhinga, Gutu-My Roots and Baba NaMai Molly.
Chikutu leads the Zim Traditional Unity Band that comprises of nationals from other countries living in Sweden.
Meanwhile, the artiste has published the English version of the Flashback Identity Book, which he initially published in Swedish.