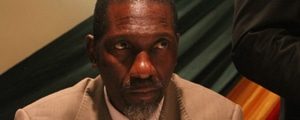 MDC-T MP for Matobo South Gabriel Ndebele says he will request government to remove the heroes' acre from Bhalagwe camp which was allegedly used as a concentration base during Gukurahundi in the 1980s. Report by Richard Muponde
Bhalagwe, which is near Maphisa Business Centre, was reportedly used as a torture base by the Fifth  Brigade and scores of villagers were allegedly murdered there while some had their remains  thrown into Antelope Mine, a few metres from the site.
In an interview with NewsDay yesterday, Ndebele said he would confront Home Affairs co-minister Theresa Makone over the issue.
"I will go to her office to register our displeasure over the heroes acre," he said.  "It's not us politicians alone who are angry, villagers are also very bitter over the issue as it opens old wounds. Heroes celebrations are approaching and we can't dance to music at that place. We have been playing lip service to the issue, but now it's time to take action," the MP said.
His sentiments were echoed by Ward 10 councillor in the constituency Alexander Phiri in a separate interview.
Phiri alleged his relatives were killed at the camp.
Two months ago, Makone said her ministry was not aware of the establishment  of a heroes acre at Bhalagwe camp amid reports Zanu PF was making unilateral decisions on the matter.
Makone made the revelations in an interview with NewsDay and said although her ministry was the custodian of heroes acres it had nothing to do with Bhalagwe.
Her sentiments came a week after National Healing, Integration and Reconciliation co-minister Moses Mzila-Ndlovu described the conversion of  Bhalagwe camp into a district heroes acre as an insult to the people of Matabeleland South.
Mzila-Ndlovu made the remarks amid calls by politicians and villagers in Matobo district for the government to reverse its decision to set up a district heroes acre at the site.
At least 50 villagers were allegedly killed by the Fifth Brigade and buried in a mass grave at the site in the 1980s.