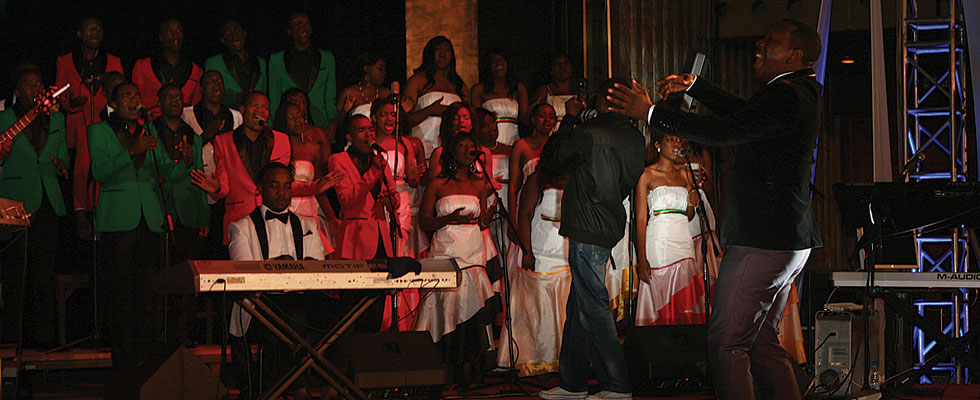 SCORES of people on Saturday flocked the Harare international Conference Centre (HICC) for the growing interdenominational gospel choir, Zimpraise's Season Six live DVD recording.
Tinashe Sibanda
The event dubbed  It's all about Jesus saw the celebration of diverse musical talent led by up-and-coming artistes together with celebrated artistes including Stanley Gwanzura aka Pastor G, Sebastian Magacha, America-based Comfort Manyame, Mathias Mhere and Thembalami Tagwirei, amongst others.
This year's live DVD performance carries 35 songs that were selected and arranged by the group's chief executive officer, Joseph Madziyire.
The colourful ceremony successfully saw a full house dancing, clapping and singing along to some of the songs including Sungano by Sharon Manyonganise, Only You Be God by Mabel Madondo, Favour by Mathius Mhere, Pamusorosoro by Sabastian Magacha and Tenzi Huyai  by Comfort Manyame amongst the people's favourites.
"We are happy and grateful to the Almighty about today's turnout at this live recording which comes at a time when we as ZimPraise are trying to take the gospel back to basics," said Madziyire.
He added that they were expecting to be releasing the live DVD in two weeks' time for those who missed the event.
Although the various musicians took turns to perform, it was a well-coordinated teamwork success where all of them put up a well-spirited performance that was of value to those who attended the show.
The choir's voices were angelic and Magacha put up a good performance sampling hit songs Tinoenda Kure and Herudhe from his latest album titled Back to Sender.
Pastor G also put up a spirited performance while Mhere's performance with his smooth sing-along songs also sent the audience into a frenzy of celebrations with songs like Favour and Chipositora.
Manyame also did not disappoint and said he was amazed to perform at such a platform where he took the high worshippers to another level.
"It was a good time for me and I feel honoured coming home to perform at this live DVD recording sharing the stage with young and youthful talents," said Manyame.
Zimpraise has been in existence for the past decade under the watchful eye of award-winning producer McDonald "Mcdee" Chidavaenzi together with Madziyire.
Recently, the interdenominational gospel choir launched a debut album for women project titled Women of Praise.