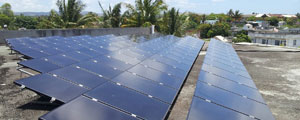 A ZIMBABWE-based firm, Oxygen Group, with interests in venture partnerships and business advisory, has partnered a Swiss company Meeco Group to promote and develop the use of solar energy in the country.
SILAS NKALA
The development is expected to minimise power supply problems as Zimbabwe is facing low generation capacity largely due to a shortage of funds to initiate new power-generation plants.
Oxygen Group executive director Simba Mhuriro disclosed to NewsDay Business yesterday that his firm recently signed a Memorandum of Understanding (MoU) with Meeco Group with the aim of promoting and developing the solar energy solutions of the Switzerland-based company in Zimbabwe.
"The MoU was signed in Dubai on May 30 this year by representatives of both parties and is already effective," Mhuriro said.
"The role of The Meeco Group, within the framework of the MoU, is to provide its solar energy solutions such as sun2go, sun2water, sun2live as well as Smart Hydro solutions, whilst the Oxygen Group will support the Meeco Group through its high expertise and knowledge on the Zimbabwean market."
He said the Oxygen Group is one of the biggest market players in Southern Africa focusing on business advisories and venture partnerships.
Meeco Group sales representative in charge of Business Development in Africa, Frédéric Genoud, said the recently concluded MoU will support the expansion of Swiss Meeco Group within Zimbabwe and beyond the borders of the country.
"With its local expertise and its high value professional network, the Oxygen Group would provide a remarkably important support to The Meeco Group that would facilitate its implantation across the Zimbabwean market," Genoud said.
"This market has a great potential as the state and the stability of the grid-connected installations have a lack of efficiency."
Mhuriro said the Zimbabwean geographical situation is ideal for solar energy development due to its level of radiation, which is one of the highest worldwide.
"With its new programme called "The Food and Nutrition Security Programme", the Government of Zimbabwe will also contribute to a large amount of renewable energy projects from solar and hydro-energy to pumping energy and water treatment in the remotest locations," he said.