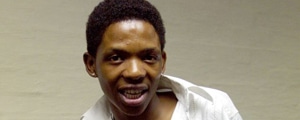 SOUTH African musician Lundi Tyamara says he is excited to meet his Zimbabwean fans when he performs at Harare Gardens today.
By Entertainment Reporter
The musician last performed in the country in 2010 when he shared the stage with Nigerian musician Uche Agu of My God Is Goodooo fame.
His attempt to perform in the country last year hit a snag when he was deported on arrival at Harare International Airport after the promoter of the tour failed to secure a work permit for the musician.
Lundi's publicist Thulani Mangona told NewsDay that the gospel musician was ecstatic about his Zimbabwean tour.
"He is very excited to come to Zimbabwe," Mangona said.
"We had to come many days before the show to assure our fans that we are indeed performing in the country.
"We wanted to avoid what happened last time when Lundi was deported from Zimbabwe.
"We had to make sure that everything is in place. We are happy about the preparations done so far by our tour promoter Beauty James.
"We can safely say all is set for our performance and we encourage Lundi's fans to come and see him in action.
"He was very disappointed when he could not perform here last year and the thought of meeting his fans on Saturday (today) makes him very happy.
"He has been seriously rehearsing for this tour and people should look forward to a breathtaking performance."
Usually when Lundi performs in the country, hits like Mina Ngithemb' uJesu and Ngiyabonga light up his shows.
However, this time Lundi has to come geared for stiff competition from local acts in the form of Mathius Mhere and Zimpraise Choir that are also billed to perform at the show.
Mhere has been in top form during his past performances.
Besides his hit song Favour, the young musician has been doing well with songs from his upcoming album.
Multi-talented Zimpraise, which is riding high with the song Sungano, is fast-becoming a household name on the gospel music arena.
The large group is proving to be Zimbabwe's answer to popular South African gospel ensemble Joyous Celebration.