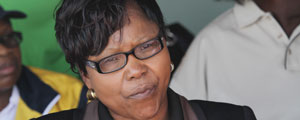 A study by the Ministry of Women Affairs, Gender and Community Development in conjunction with Gender Links has revealed shocking statistics that conclude that at least 68% of women in Zimbabwe have suffered from gender-based violence (GBV) perpetrated by men.
VENERANDA LANGA,SENIOR PARLIAMENTARY REPORTER
Zimbabwe is currently observing the 16 Days of Activism Against Gender-Based Violence with the rest of the world which ends on December 10 amidst calls for solutions to end domestic and gender-based violence which has seen people who are supposed to love one another inflicting harm on each other.
While some activists who fight for women's rights are calling for stiffer penalties on perpetrators of gender-based violence as a deterrent measure to ensure it is put to an end, activists standing for men's rights argue domestic violence can only be nipped if there is dialogue between women's groups and men's groups to find lasting solutions to the scourge.
There is also a lot of concern that victims of gender-based violence sometimes have nowhere to run to as they find more vultures in institutions like churches where they are supposed to seek solace, but end up being abused by the men of cloth who are supposed to protect them.
Recent media reports were awash with stories of pastors who sexually assaulted their female congregates, sodomised boys or engaged in nefarious activities where, for example, one Kwekwe pastor was arrested after removing all his clothes during a court session and almost sexually abused a woman in front of the police.
Tendai Garwe, a communications officer with Women's Trust said it was difficult to completely eradicate gender-based violence, but a lot could be done to nip it in the bud.
"What we can do as a nation is to first socialise our children to understand that they have to respect each other because if a child is a bully, they continue with such behaviour later in life. It is high time issues of rape and sex abuse are included in the school curriculum so that children know from a young age that if someone touches their private parts their rights would have been violated.
"Family should also be supportive of victims of sexual abuse and other forms of gender violence. There should be stiffer penalties for perpetrators of gender-based violence because we find some people who committed rape crimes are doing community service while cattle rustlers get sentences of seven years. An example is of the pastor who is alleged to have sexually abused many women at his church, but was granted bail by the courts," said Garwe.
She said everyone in the community, including traditional leaders should be involved in curbing gender-based violence.
Musasa director Netty Musanhu said gender based violence was a social scourge which needed collective efforts to end it.
"Female legislators should fight for other women in Parliament through motions and other legislative processes and ensure there is an end to gender violence," Musanhu said.
Her statements were buttressed by those of Women's Affairs, Gender and Community Development minister Oppah Muchinguri who said: "I note with concern that the current sentences being handed down to perpetrators for rape and sexual violence are not deterrent enough and legislators should pass laws to ensure there are stiffer penalties for perpetrators."
On Thursday during commemorations by Musasa Women's Project of the 16 Days of Activism Against Gender–based Violence in Harare, Muchinguri said the minimum sentence for rape should be 20 years adding it should be more deterrent than cattle theft sentences.
The minister also said 75% of women in Zimbabwe were raped by their husbands, but were afraid to report the cases to the police.
But, Varume Svinurai/Vhukani Madoda male pressure group national chairman Fred Misi felt men were being vilified and totally ignored on issues of gender-based violence when they also suffered abuse by women.
"One of this year's theme Let Us Walk a Mile in Her Shoes' seems to suggest men are the only perpetrators and it creates a lot of problems. There are different forms of abuse — emotional and physical and all these should be taken into cognisance during these 16 days. We should sit together as men and women and map out strategies of how to end GBV," said Misi.
He said his organisation dealt with cases of boys who were sexually assaulted by older women and men who were beaten up or verbally abused at home by their wives.
"First and foremost, we need to take a neutral position and not feminise the 16 Days of Activism Against GBV. Cases of abuse on men are under-reported and the police do not take such reports seriously. The female perpetrators are only given caution or minor fines," he said.
Misi said cultural practices where people used to take their domestic problems to aunts (tete) and uncles (sekuru) should be cherished and practised as they were useful in curbing domestic violence.
"The courts and police do not have the facilities for counselling and cultural institutions should be preserved," he said.
In their statement to denounce gender-based violence, the Women's Coalition of Zimbabwe (WCoZ) also proffered solutions to the problem.
"WCoZ encourages the men and women of Zimbabwe to use the 16 Days of Activism to denounce all forms of violence in their community. Gender-based violence will only end when we all adopt the zero tolerance approach to violence in the community and the home. If you are a political leader, legislator or minister, take the opportunity to speak out against GBV and all forms of violence at all events during the 16 days."
They encouraged the police, churches, women's groups and even teachers at schools as well as chiefs and traditional leaders to speak to their communities about the problem.
Heal Zimbabwe Trust said this year's international theme on the 16 Days Against GBV 'From Peace in the Home to Peace in the World, Let's Challenge Militarism and End Violence Against Women sought to highlight gender-based violence perpetrated by State actors, domestic violence and sexual violence during and after conflict.
"Zimbabwe has not been spared of cases of violence against women. These practices have varied from political and domestic violence, economic deprivation, sexual harassment, and child marriages to pledging virgins, which is advocated for by some religious sects. Gender-based violence not only has an impact on one's health, but also affects the emotional and psychological well-being," they said in a statement.