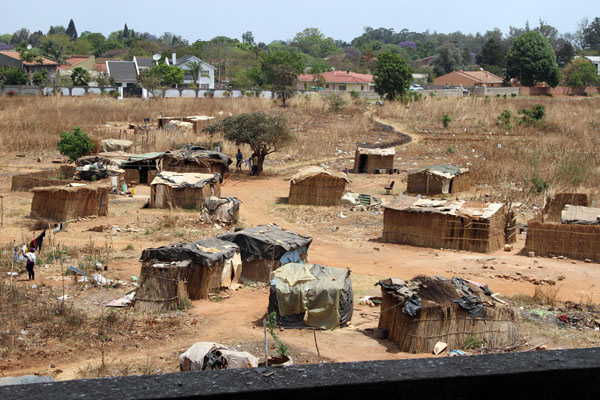 HARARE provincial administrator (PA) Alfred Tome yesterday lashed out at mayors and town clerks for failing to deal with people illegally occupying land in the metropolitan area.
MOSES MATENGA
This came out during a stakeholders' meeting on water pollution in the capital where Tome said President Robert Mugabe was "furious" over poor service delivery and pollution in the city and surrounding areas.
"You were empowered to be mayors and chief executive officers to manage, we ask you for information of people staying on poles, but the problem is the CEOs, and mayors and town clerks — they want to speak nicely to people," he said.
"Save your country and the lives of the people. Go back to them, if you were to be rude, ask them (illegal settlers) where they got land from." Tome said land barons making a killing from illegally selling land had to be dealt with.
"Be serious, save the nation, save your country, be patriotic. "We don't want to beat about the bush.
"As Harare PA, I am disappointed, let's be serious and solve the problem," he said.
He said Mugabe was serious about fighting pollution.
"The President was furious about it and reiterated that something should be done. We don't want to create the Hiroshima of our time. This must be curbed before it gets out of hand," Tome said.
Harare Provincial Affairs minister Miriam Chikukwa said there was no turning back on fighting pollution.
She said Mugabe had mandated her to ensure that the environment was protected.
"On a related note, local authorities and EMA [Environmental Management Agency] are hereby instructed to immediately issue relevant orders to the identified polluters to take remedial action," she said.
"We are not negotiating here. I represent the President of this land, President Robert Gabriel Mugabe, it's my duty to make sure that whatever instructions have to be followed.
"I work directly in the President's Office and get instructions from His Excellency," she said.
In April, government set up a ministerial team made up of the ministries of Health, Local Government, Environment, Water and Climate, Finance, Energy, Agriculture, Mines, Health and Child Care to investigate the causes of water pollution and raw sewage disposal focusing on a number of issues.
Some of the companies represented yesterday included chemical manufacturer Zimphos, Olivine Industries and funeral parlours among several others fingered in reports of culpability in polluting the water.