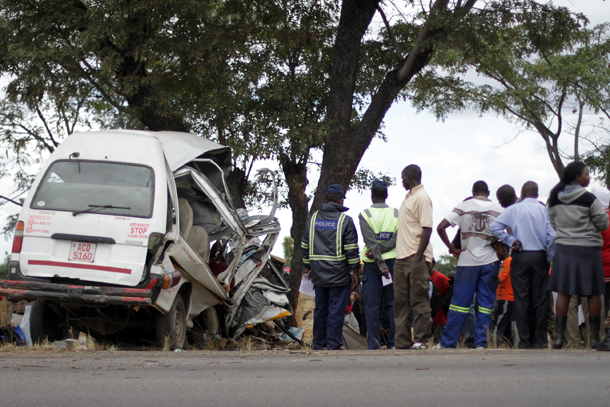 A KOMBI, whose driver was suspected to be drunk, was yesterday involved in an accident which killed one person and left 17 others injured at Snake Park along the Harare-Bulawayo Highway. The kombi belonging to CC Tours had 21 passengers and was travelling from Norton to Harare. STAFF REPORTER
According to witnesses, the driver of the kombi, who allegedly had a bottle of brandy on the dashboard, lost control of the vehicle when it started swerving. The kombi then overturned before sliding for over 100 metres and then landed in a ditch.
The 17 injured passengers were ferried to hospital in ambulances and private vehicles. A NewsDay crew saw police officers who attended to the scene, retrieving a half-full bottle of Viceroy Brandy from the kombi's dashboard.
The police officers were also busy trying to establish the identity of the deceased woman, while the 17 injured passengers, including the driver and the conductor had been rushed to hospital.
Agnes Segweni (50), from Katanga suburb in Norton said the driver was speeding. "The driver was speeding and lost control. The kombi started swerving before landing by the side and it glided for over 100 metres," Segweni said.
Two other passengers concurred with Segweni that the kombi was speeding.
"Most passengers were seriously injured, especially on the side the kombi glided on," said one of the passengers who refused to identify himself.
Another passenger said initially the Kombi had 22 passengers, but one had disembarked earlier protesting against the speed at which the vehicle was being driven.
Zimbabwe Republic Police national traffic spokesperson Inspector Tigere Chigome was not answering his phone yesterday.
The accident comes a few weeks after 10 people perished along the Chitungwiza road when an inexperienced Kombi driver rammed into a tree close to Chinhamo service station.