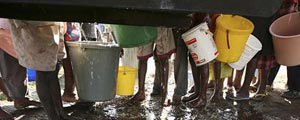 ILLEGAL settlements have become cholera and typhoid breeding grounds due to poor sanitation conditions, an official has said.
FELUNA NLEYA STAFF REPORTER
Portia Manangazira, the director of epidemiology and disease control in the Health and Child Care ministry, said the sprouting of unregulated settlements in most urban areas poses a health hazard.
"We also have major problems of unregulated urbanisation as you have heard with a lot of irregularities, and this compounds the health determinants already mentioned.
"Typhoid, the common diarrhoeas, dysentery and other enteric diseases including cholera thrive under such conditions," Manangazira said.
The Health and Child Care ministry official said waterborne diseases thrive under conditions of poor water and sanitation facilities.
She said the country still faced challenges in providing clean water to the people, hence the increasing numbers of diarrhoea cases.
"Access to safe water and sanitation has not been observed, or where there is still some semblance, the coverage's are well below the set targets of at least 80% of people have access to adequate (20 litres per person per day) and safe water," Manangazira said.
Local authorities have in recent weeks embarked on an exercise to demolish some houses which they claim were built on illegal settlements.
According to a Health and Child Care ministry report, typhoid cases continued to rise with at least 77 cases reported in one week in Harare, Chegutu and Nyanga.
Common diarrhoea is also on the rise with 23 deaths recorded in one week, according to the same report.
Director of City Health Services Prosper Chonzi said if caution is not exercised the city will be hit by a typhoid outbreak especially now that the rainy season has come.
Chonzi said there were cases of typhoid outbreaks reported from Harare South and this was due to people drinking contaminated water.
"We have seen cases of typhoid and diarrhoea going up and most of them were coming from Hopley," Chonzi said.
"In Hopley the typhoid was coming from people drinking contaminated water and this was coming from one of the two boreholes they were getting water from. We have since decontaminated the borehole in a bid to stop an outbreak coming."