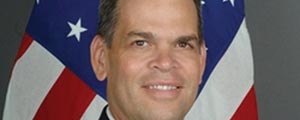 United States ambassador to Zimbabwe Bruce Wharton has commended the Zimbabwe Agricultural Competitiveness Programme (Zim-ACP) for upgrading the status of women in the country's agricultural sector where they now played various leadership roles.
by PHILLIP CHIDAVAENZI
Speaking during Zim-ACP close out ceremony after four and half years of operation in Zimbabwe last week, Wharton said the emerging women leaders were set to make important contributions in the development of the agricultural sector and poverty reduction.
"Zim-ACP partnered with farmer and other organisations to develop a program to empower and mentor women leaders in agriculture," Wharton said. "This work has helped women leaders compete for leadership positions and become more capable leaders. We know that women are the backbone of agriculture in Zimbabwe, and so enabling them to have an important role and voice in leadership and decision-making has infinite wisdom."
He said last year, agriculture was the main driver of the country's economic growth against a backdrop of favourable weather conditions and the work of farmers, traders and agro-dealers.
"Last year's robust harvest helped significantly reduce the reliance of poor Zimbabweans in drought-prone areas on emergency food support, and helped smallholder farmers partially recover and hopefully get back on a sustainable development pathway," he said.
"We know that Zimbabwe's agricultural potential is vast, and that realising this potential is essential to poverty reduction, food security and long-term prosperity and growth." The US Government, through USAID, bankrolled the programme since its inception in Zimbabwe.
Zim-ACP mission director Melissa Williams said the programme played a critical role in ensuring a healthy dialogue between agricultural organisations and government.
"The programme has been instrumental in helping agricultural organisations use evidence and analysis to assess the impact of policies and regulations affecting their sectors," she said. The programme, which ran between 2010 and 2015, assisted 14 farmer organisations who received leadership training and advocacy skills.