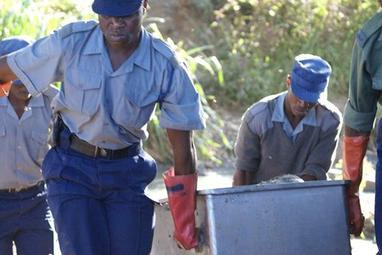 SOME Beitbridge children looking for firewood this weekend stumbled on the body of a man suspected to have been killed by armed robbers close to the Limpopo River near the railway line.
The deceased man is believed to be a porter commonly called Zalawi in Beitbridge where the name refers to people who emerged out a living by carrying heavy goods for shoppers returning from South Africa.
The deceased had been reported missing having been attacked by robbers. His body was decomposing.
Beitbridge Police District commander Chief Superintendent Tichaona Nyongo confirmed the discovery and said remains had been taken to Beitbridge District Hospital.
"We have received a sudden death report. Children who were looking for firewood at the railway line behind St Marry's Secondary School came across a body of a male adult. They went to advise their parent who then made a report to the police," he said.
"The body has a stab wound at the left rib cage. The body matches that of a person (Zalawi) who was reported missing on September 29 this year after an attack by robbers two days earlier on September 27.The body is now in a decomposing state," he said.
Nyongo said police were arranging for identification of the deceased and that a case of murder had been opened and accused people are yet unknown.
Meanwhile some suspected criminals flushed out from underneath the New Limpopo Bridge by South African Police Service (SAPS) were deported to Zimbabwe where they have already been charged for leaving the country by evasion.
They are expected in the Magistrate's Court at Beitbridge tomorrow for sentence after they pleaded guilty.
The men created a hideout under the bridge and are also suspected of being nuisances to unsuspecting travellers and border jumpers.
Related Topics