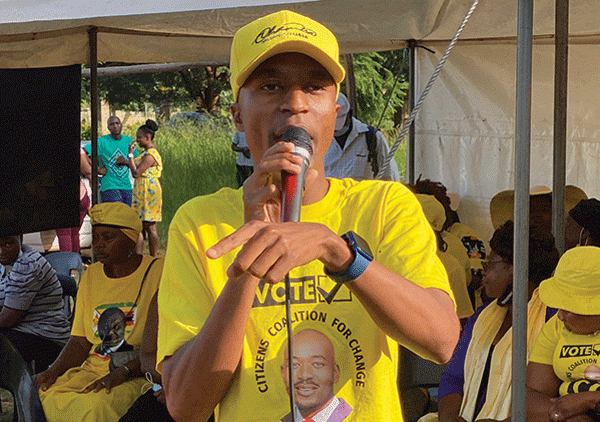 A NUMBER of Citizens Coalition for Change (CCC) bigwigs aspiring to represent the party in the August 23 polls fell by the wayside after being disqualified during the verification process which started on Friday and ended on Saturday in Bulawayo, NewsDay has heard.
According to sources, most of the sitting councillors and some legislators were dumped as the opposition party sought to weed out suspected secret agents in its rank and file.
NewsDay understands that the candidate selection process was hectic and took many hours to complete, with most of the candidates being disqualified for various reasons.
They also added that incidents of vote-buying and bussing of supporters by some candidates were a major sin that informed many of the disqualifications.
"Besides the 11th hour disqualification of almost all incumbents, the process proceeded smoothly in all wards except in ward 24, where caucus didn't take place on numerous allegations of bussing (in of voters)," a party insider said.
CCC deputy spokesperson Gift "Ostallos" Siziba, who will represent the party in Pelandaba-Tshabalala, confirmed that several party heavyweights had fallen by the wayside.
He made the remarks during the launch of the Deputy Prime Minister in the 2009-13 Government of National Unity, Arthur Mutambara's book on Friday last week.
"I have just received a report from our security department that some of my good friends have been vetted out because you know this struggle has taken too long, so we are dealing with sell-outs and nincompoops in our midst," he said.
In ward 25, there were alleged attempts to disqualify Alderman Mzamo Dube after he was overwhelmingly nominated.
"The process was chaotic because whoever was able to transport people was ahead. The process was also slow, while there was sheer disregard for people's time. Vote-buying allegations were flying all over as some candidates were buying people with US$5 notes and alcohol," the sources said.
Former Deputy Prime Minister Thokozani Khupe will face off against Finance and Economic Development minister Mthuli Ncube, who has been on a campaign trail in Cowdray Park.
In Nkulumane and Lobengula-Magwegwe constituencies, CCC will be represented by Desire Moyo and Tendai Nyathi, respectively. The former was selected ahead of Rodney Jele and Kucaca Phulu.
In Pumula, Chelesile Mahlangu was given the nod to represent the party, while in Bulawayo Central, the party will be represented by Surrender Kapoikulu, who won against Mbuso Siso.
Descent Bajila was the popular choice in Luveve-Emakhandeni.
Minenhle Gumede was the people's choice ahead of Jasmine Toffa and Elvis Mujeri in Bulawayo North, while in Bulawayo South, Engineer Mangwendeza was selected ahead of James Sithole and Nicola Watson.
The sources also revealed that in Mpopoma-Mzilikazi, Desmond Makaza prevailed over Charles Moyo, who was initially disqualified just before the caucus, but later allowed to contested.
In Nketa, ward 24 selection was shelved for Sunday, while reports indicated that Obert Manduna alias Paul Manduna was ahead, closely followed by Mandla Nyathi.
Meanwhile, some CCC sources have claimed that ruling Zanu PF party affiliate, Forever Associates Zimbabwe (Faz), was allegedly actively involved in several caucuses where they funded weaker candidates in various areas.
They said Faz operatives splashed cash in Cowdray Park, Nketa and Mpopoma-Mzilikazi to ensure that weak candidates won in a bid to infiltrate the party.
Related Topics