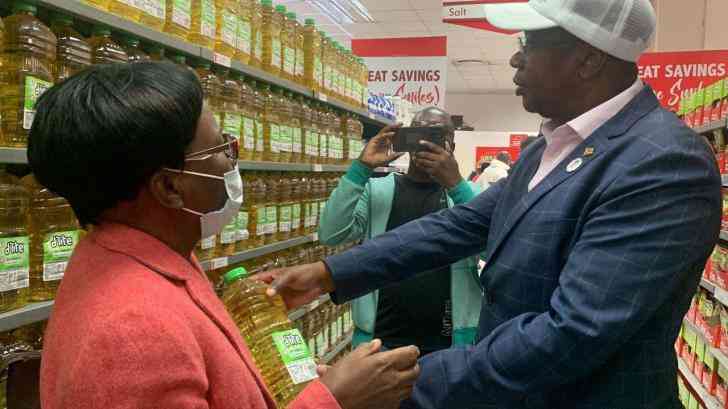 ECONOMISTS have described Finance minister Mthuli Ncube's weekend raids on retail shops to check on pricing of basic commodities as a publicity stunt after failing to tame the country's runaway inflation now hovering around 324,63%.
Ncube is seen in a video that has gone viral on social media platforms visiting different supermarkets in Bulawayo, ordering management to slash US dollar prices which he said were unjustifiably too high.
The Finance minister is set to contest as Zanu PF parliamentary candidate for the Cowdray Park in this year's harmonised elections.
"We don't accept that as government. There is unjust rise in prices for no reason. It is totally unacceptable and unjustified," Ncube said.
He said some producers and retailers were working with middlemen to sell goods in US dollars and threatened to blacklist businesses refusing to transact in the Zimbabwe dollar.
In 2019, against advice from economists, Ncube reintroduced the Zimbabwe dollar which had been demonetised in 2009 after a record global 500 billion percent hyperinflation had rendered it useless.
Yesterday, economists said the problem was that Ncube was printing too much money and failing to take steps to control inflation.
United Kingdom-based lawyer Max Lion said Ncube should address the root cause of inflation instead of confronting businesses.
"I can't believe that the Finance minister went into a shop and complained that prices were too high. Is he trying to show people that he understands their challenges because it's the most delusional thing to do? It's cruel to appear ignorant when he knows his failure contributed to the price debacle," Lion tweeted.
"This is bizarre; the Finance minister is complaining that prices are too high when the country has the highest inflation in the world. What part of the dysfunctional currency does he not understand? He should address the root cause of inflation, not confronting businesses."
Another economist Yona Menon Banda said: "I think it goes back to the start with austerity measures under the Transitional Stabilisation Programme. Cutting back on government excesses and instilling fiscal discipline would have been the foundation of his economic plans. The strategy didn't succeed, government over-expenditure has persisted and its monetisation has contributed significantly to the depreciation of the Zimdollar. So, there's never been a stable foundation for any growth-oriented economic policies to really take shape."
Meanwhile, Members of Parliament (MPs) in the National Assembly have also called for the rejection of the Zimdollar amid reports that their Constituency Development Fund (CDF) allocations have been rendered useless by inflation.
They voiced the concerns during a workshop conducted by the Parliamentary Portfolio Committee on Public Service, Labour and Social Welfare over the weekend in Mutare.
The workshop discussed safety nets and both the ruling Zanu PF and opposition legislators concurred that the local currency is now useless.
Zaka Central MP Davison Svuure (Zanu PF) said the local currency is no longer sustainable.
Mutare West MP Percy Muchimwe (Zanu PF) also supported the motion saying Ncube should find a solution.
"It's true, the Zimdollar is giving us trouble at the moment, we should have a solution," Muchimwe told NewsDay yesterday.
MDC-T chief whip in Parliament and Makoni Central MP David Tekeshe said MPs spoke with one voice.
"The Zimdollar is no longer sustainable; my $21 million CDF has been eroded by inflation. Pensioners must also be paid in US dollars due to inflation," Tekeshe said.
Mkoba MP Amos Chibaya (CCC), who also attended the workshop said all legislators spoke with one voice.
Chairperson of the Parliamentary Portfolio Committee on Public Service, Labour and Social Welfare, Emma Ncube (Zanu PF) said the general concern was that Treasury is failing to release budget allocations on time.
"Government should review the money they are giving to children on the Basic Education Assistance Module because it is no longer sustainable," she said.
Follow us on Twitter @NewsDayZimbabwe
Related Topics