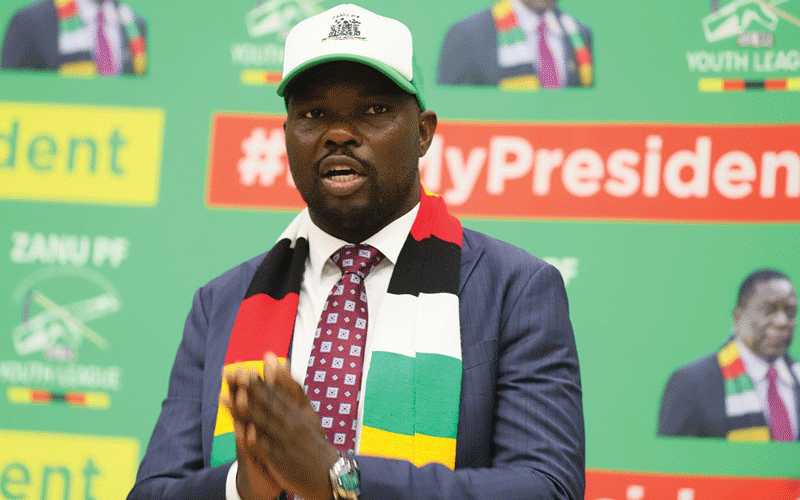 THE Zanu PF youth league is reportedly in turmoil as some members are allegedly snubbing the ruling party's national secretary for youth affairs Tino Machakaire amid reports of a plot to oust him.
The youth league has previously played a key role in mobilising support for the ruling party and government programmes, sometimes through violent campaigns targeting opposition supporters.
Machakaire, who doubles as Youth deputy minister, is accused of lacking the oomph to mount a strong campaign for President Emmerson Mnangagwa, who is seeking re-election in the August poll.
There are reports that Machakaire, who was handpicked by Mnangagwa early this year, does not enjoy a good working relationship with his deputy, John Paradza.
While Machakaire is an appointee, Paradza was elected deputy youth leader in 2021.
Machakaire is said to have attracted a paltry crowd at a youth inter-district meeting, held at Mbizo Stadium in Kwekwe on Friday last week.
This was in contrast to Paradza who has been attracting bumper crowds countrywide.
According to some in the ruling party, the snub by party youths in Kwekwe left Machakaire fuming.
"Our boss Tino Machakaire was left fuming after youths snubbed his inter-district meeting in Kwekwe and this has been the norm in most of his meetings," the sources said.
"He is not popular with Zanu PF youth structures and is not wanted in the Matabeleland provinces."
He was reportedly particularly incensed by the absence of party youths from Gokwe and Mberengwa.
In Manicaland recently, Machakaire also attracted a paltry crowd when he addressed youths at Queens Hall in Mutare.
Paradza, who is popularly known as "Boss Para," is said to be enjoying good support from the youth.
Zanu PF Midlands chairperson Ernest Dzoro, however, dismissed reports that Machakaire addressed a poor gathering.
"People are just crazy. The meeting was well attended. This was one of our biggest meetings we have held," Dzoro said.
Paradza dismissed the allegations of divisions between him and Machakaire when contacted for comment on Monday.
"There is no bad blood between me and my boss," Paradza said.
"We have been organising the meetings together and it was well attended in Kwekwe, we were actually together.
"I think people are creating stories out of nothing and it's bad, as youths we are united."
Machakaire could not be reached for comment.
There are fears that the simmering divisions in the youth league might cost the ruling party during elections.
The late President Robert Mugabe used to turn to the Zanu PF youth league and war veterans to mount vicious campaigns against the opposition each election season.
Related Topics