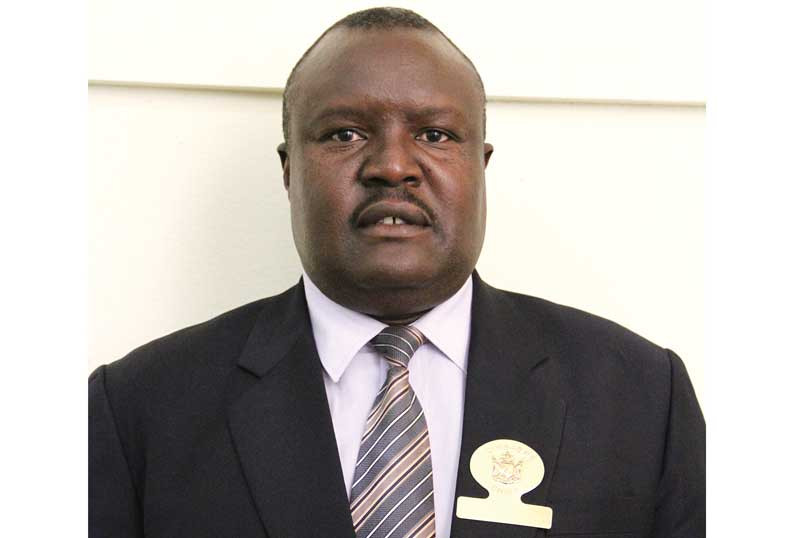 POLICE in Masvingo province have opened an indecent assault charge against Chiefs' Council president Fortune Charumbira after he allegedly sexually abused his 27-year-old married niece on two occasions, NewsDay has learnt.
The complainant formally filed a report at Masvingo Central Police Station under RRB 5457646 on Saturday last week, but Charumbira, who is also president of Pan-African Parliament (PAP, is yet to be arrested.
According to police, the case will be transferred to Harare where the alleged offence was committed.
Charumbira yesterday addressed traditional leaders in Mashonaland Central province ahead of national Independence Day celebrations today, amid reports that some traditional leaders quizzed him over the issue and he professed ignorance.
When NewsDay called him for comment, he just hung up.
National police spokesperson Assistant Commissioner Paul Nyathi said they will issue a statement after today's event.
"It's too early for us to comment. Check with us after national Independence Day celebrations," he said.
According to a leaked police memo, Charumbira called the complainant on March 31 this year and invited her for lunch at a top hotel in Harare while she was on her way to Mazowe on school business.
"When they were about to leave (the hotel), the accused started caressing the complainant on her breasts. He also put his hand in her dress and kissed her without her consent," the docket partly reads.
Charumbira allegedly later handed his car keys to the complainant saying someone would join her outside the hotel.
It is further alleged that an unidentified male adult who had a badge inscribed Parliament of Zimbabwe later showed up as she was leaving the hotel, took over the car keys and drove her to Mazowe.
On April 2, at around 1pm, while in Mazowe, Charumbira reportedly called the complainant and requested to meet her in the central business district.
The woman allegedly hitchhiked from Mazowe to Harare where she met Charumbira, who drove her to another upmarket hotel after taking away her mobile phone.
The memo said the two spent about an hour in the 18th floor lounge of the hotel where they discussed Charumbira's actions in their previous encounter.
"The complainant stood up intending to leave. When she was at the door leaving, the accused dragged her by her hand back into the lounge," the police memo said.
It further alleged that Charumbira later escorted the woman to his vehicle where she secretly recorded their conversation after getting back her phone.
In a leaked recording, Charumbira could be heard soliciting for a kiss which the complainant turned down.
"I see more value and benefit in you and we being linked somehow, being friends, being very close friends, private, very close friends," Charumbira is heard saying.
"When the need arises, we just get that close, that even intimacy, when there is need and it is convenient for both of us. I see more benefits in that than anything, which is not beneficial."
The complainant then said: "It's the hardest thing. I am not good at meeting demands."
Charumbira allegedly pleaded for a kiss, while giving assurances that he did not mean to harm her.
"Just a kiss with me… Can it make the world collapse? If you refuse, you have killed me. The best goodbye is to kiss me. I am saying it out of love.
"There is one decision you made. It never destroyed you…. You know better when you did it and with … You had to do it at some point although it was hard for years and …. I am saying so because you have kids. Those decisions were very difficult. Kiss me to motivate me."
Observers said Charumbira, a known close ally of President Emmerson Mnangagwa, could have been set up by State security agents after he recently publicly called for a coalition government between the Zanu PF leader and his political nemesis Nelson Chamisa of the Citizens Coalition for Change.
Charumbira made the remarks last month at the burial of Harare mayor Jacob Mafume's mother in Mbetu Village, Masvingo province.
On several occasions, Charumbira has found himself on the wrong side of the national Constitution after publicly pledging his allegiance to the Zanu PF leadership.
High Court Judge Justice Clement Phiri, in May 2018, gave Charumbira a seven-day ultimatum to statements that traditional leaders would support the ruling party in the harmonised elections.
Charumbira, however, repeated his claim that traditional leaders owned Zanu PF during the Zanu PF national people's conference held in Bindura in October, 2021.
Related Topics