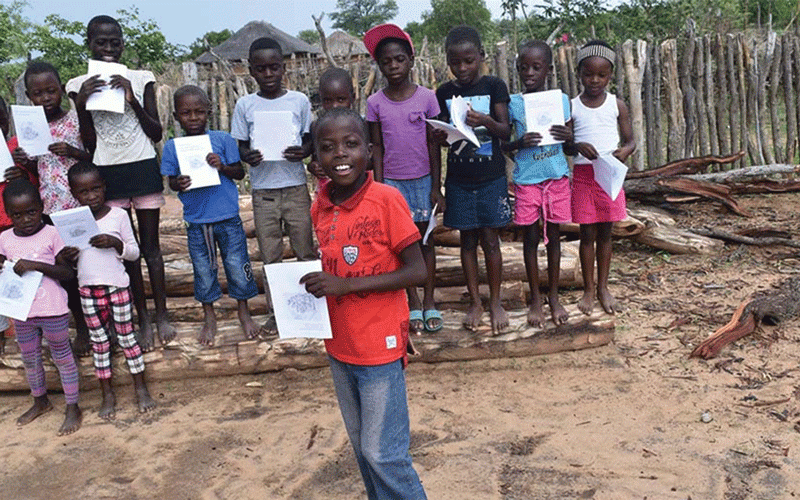 SAN children in Tsholotsho, Matabeleland North province, face a bleak future as they struggle to stay in school amid financial constraints. With tuition fees, books, uniforms, and food out of reach, many are forced to drop out, putting their education and future opportunities in jeopardy.
The San people were forcibly displaced from their ancestral land in the colonial period to make way for the Wankie Game Reserve, now known as the Hwange National Park. In 1926, they settled in Tsholotsho, where they continue to face challenges accessing basic services like education.
The San community is primarily concentrated in Tsholotsho, with most of them settled in Sanqinyana, Gariya, and Dlamini villages.
The population of the San is estimated to be over 2 500, with the majority residing in Tsholotsho and Bulilima, both districts located in Matabeleland North and South provinces, respectively.
The San people have relied on hunting and gathering as a means of survival for thousands of years. Their diet has traditionally consisted of game meat and fruits, and their language, Tjwao/Khoisan, is recognized as one of the official languages in the country.
The traditional way of life for the San people has often led to their marginalisation and denial of fundamental human rights, such as access to education.
From 2010 to 2021, the Tsoro-o-Tso San Development Trust, a civic organisation dedicated to improving the well-being of the San community, implemented a fee assistance program. This initiative significantly increased the enrolment of San children in schools, with approximately 300 children benefiting from the program as of 2021.
The programme ended, however, leading to a significant drop in children attending school.
Malaki Tshuma, a father of three, has expressed concern over the rising number of San children dropping out of school due to their parents' inability to afford school fees and other basic necessities.
"Our children in Tsholotsho are dropping out of school because of the end of a programme where well-wishers paid tuition fees," says Tshuma, a villager in Tsholotsho's Gariya area.
"I was lucky that one of my children got assistance through that programme last year and managed to write his Ordinary Level examinations. However, he cannot proceed to Advanced Level, and neither can my other children proceed with their studies."
Tshuma is not alone as several beneficiaries have been forced to drop out of school due to the ongoing challenges faced by the San community in Tsholotsho.
Davy Ndlovu, director of the Tsoro-o-Tso San Development Trust, is optimistic that the installation of Goledema-Christopher Dube as the San chief will provide an opportunity to advocate for the education rights of San children to relevant government agencies and Parliament.
After the introduction of the fees assistance programme in 2010, scores of children were able to enrol in schools, Ndlovu says.
"We had children who completed Form Four and some went as far as Form six."
He adds: "Currently, we do not have even one child in Form Four because we no longer have support from well-wishers. There has been a significant drop of children going to school."
Ndlovu says that the fees assistance programme brought about significant improvements to the lives of San people.
"Our programme worked, some are now Zimbabwe Prisons and Correctional Services officers and others are at theZimbabwe Parks and Wildlife Management Authority.
"This shows that development can be there, but because of lack of resources this is retrogressive," Ndlovu says.
Chief Goledema has confirmed an increase in high school dropouts within his area of jurisdiction.
"There are many children who are failing to go to school due to poverty and lack of reliable sources of income," Goledema says.
In Matabeleland, the San community continues to face significant barriers to learning. Without proper funding and support, the future of these children is uncertain, and the cycle of poverty is likely to continue.
The San community has a limited presence in formal employment, as many of them often rely on menial jobs for survival.
According to Taungana Ndoro, spokesperson for the Ministry of Primary and Secondary Education, the San community, who are considered underprivileged, should have access to the Basic Education Assistance Module (Beam) to support their education.
"Beam is a programme that provides school fees, examination fees, levies and building assistance," Ndoro says.
"It targets the vulnerable children who are unable to pay school fees or those who fail to go to school as a result of non-availability of money."
The Beam was introduced by the Zimbabwean government in 2001, and is co-ordinated by the department of social services in the Labour and Social Services ministry. However, the programme does not provide assistance for necessities such as uniforms, food, transport, books, and stationery, leaving underprivileged communities like the San struggling to access education.
Furthermore, enrolments both at junior and senior secondary are very low. Most San parents fail to meet school needs like stationery and uniforms and this results in them being bullied by other school children and teachers. San children leave school as a result of hostile environments which they are not used to at home.
A study titled: The San in Zimbabwe: Livelihoods, Land and Human Rights shows that San children's education access in Zimbabwe is very low, both among children and adults.
"Long distances travelled to school and financial problems are the leading factors to high drop outs of San children," the report published by the Open Society Initiative of Southern Africa in 2016 asserts.
The San community's struggles reflect the broader challenges faced by people in Matabeleland in accessing quality education.
According to a Zimbabwe National Statistics Agency report, Matabeleland has the second-lowest literacy rate in the country at 83,7%, compared to the national literacy rate of 94,3%, and the highest number of out-of-school children.
Poverty, lack of infrastructure, and historical marginalisation by the national government are among the main factors affecting access to education in Matabeleland.
— The Citizen Bulletin: This story is part of a reporting series supported by the Pulitzer Centre
Related Topics