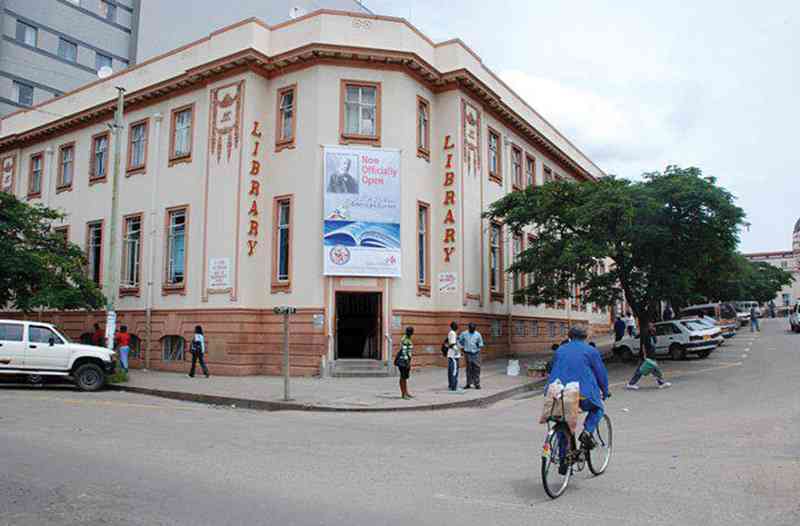 AN iconic public library in Zimbabwe's second city faces collapse after years of structural deterioration amid poor funding for the country's public sector.
The Bulawayo Public Library is a city landmark built more than a century ago. It is home to thousands of books that have nurtured some of the city's luminaries, but years of under-funding have meant the maintenance of the building has all but been neglected.
This as public amenities in the country have not been spared the devastating effects of a decades-long economic crisis that has stripped critical sectors of government funding.
With the city already struggling to provide essential services such as water and refuse collection among others, public library's needs have for years been pushed to the periphery.
Officials at the library say they are racing against time to save the architectural marvel from collapsing into rubble amid a leaking roof, peeling paint and unstable floors.
The building's collapse has been in the making for years, and attention is emerging now at a time when the city's famed mobile library which brought books to marginalised communities suspended its service years ago because of lack of funds to maintain the bus.
"The library has not been renovated for years, even the bookshelves have never been replaced. We just move them around to present a sense of novelty," said Roland Ndhlukula, chief librarian.
"We can't raise money through subscriptions as many people have migrated from hard copy books to free online books," Ndhlukula said, adding that at its peak, the library had 10 000 paid subscribers.
That number has decreased to 800.
City authorities say the responsibility of maintaining the library lies with the library board.
"The Bulawayo Public Library is called a public library but in essence it is a community library because it is managed by a board," said Nesisa Mpofu, the city spokesperson.
"The public libraries that were first established in the colonial era were community libraries that served specific white communities. Towards independence, local residents were allowed and even became board members. They were sustained through donations and subscriptions," Mpofu said.
But, with declining incomes, subscriptions have failed to keep up with inflation to cater for the maintenance of the old building and also meet staff salaries, according to Ndhlukula.
The library's fate has become symbolic of the country's many glaring contradictions after some legislators in August demanded that Treasury provides them with up to three chauffeurs while also demanding "diets befitting Members of Parliament".
In December, Treasury approved US$440 000 loans from public funds for MPs, which critics say are not likely to be repaid in light of the coming general elections and in the likelihood of loan beneficiaries being voted out of office.
Educationists and civil society groups have questioned government spending of public funds at the exclusion of critical sectors such as education.
"Unfortunately the same government massively funds executive luxuries of the ruling elite, the loans offered to ministers and Members of Parliament recently being a clear case in point," said Obert Masaraure, president of the Amalgamated Rural Teachers Union of Zimbabwe.
"Zimbabwe has self-serving government officials who care more for their pockets than anything else. In the absence of a caring government, communities are urged to unite and pool resources together to provide community services," Masaraure said.
Last month, the Bulawayo Public Library held a fundraising marathon, billed "A race to save the library", but Ndhlukula says the initiative was not met with enough enthusiasm to gain traction towards fixing the library's many problems.
"There has been very little support from corporates, and nothing from government or politicians," Ndhlukula said.
Residents, however, have questioned the library's neglect, citing the continued allocation of resources to sectors that do not benefit the city's or country's amenities.
"The Bulawayo Public Library is both a traditional information educational resource hub and a symbolic structure which forms Bulawayo's identity," said Thembelani Dube, the Bulawayo Progressive Residents Association secretary for administration.
"In that regard we expect such iconic centres to be given financing priorities considering the large sums of loans extended to the elected officials in both arms of State, that is the Executive and Parliament," Dube said.
The library's foundation stone was laid in November 1897, and while it enjoyed financial resources from the colonial administration before the country's independence in 1980, it has witnessed steady decline in the past few decades, with veteran librarians quitting in frustration.
"It is up to the board to acknowledge the financial constraints that face the library and engage stakeholders for assistance. Council budgets for and funds its existing libraries with the assistance of its partners," Mpofu said.
Residents identified as city stakeholders have been slow in their involvement in city affairs, with calls for broader consultation towards preserving the city's amenities.
"A devolved financing approach to cater for councils anchored by an in-depth grassroots-driven budget consultation process which identifies priority areas in the city can help preserve public amenities such as the dilapidated and struggling Bulawayo Public Library," Dube said.
Related Topics