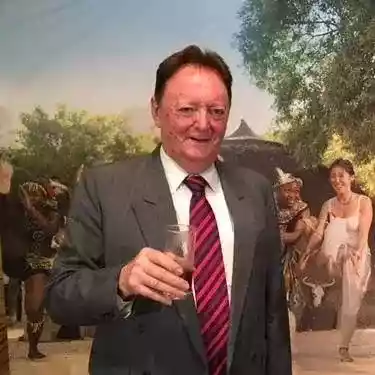 With the passing away of Allan Riddell on Friday, a half-century career in broadcasting and entertainment came to an end, but the legacy of this influential man is one that will hold fast for many years to come.
He was best known for his work on television and radio and it is perhaps in the area of television game shows that he will be best remembered by millions of Zimbabwean viewers and listeners. From the 1960s to the 1990s he conceived and hosted a series of such shows, one of the best-known being the televised Pick-a-Box Show, in which contestants had to choose between taking cash or selecting a box prize, in which they could find either a magnificent and valuable gift or a toothpick.
Live audiences for the show were encouraged to egg on the contestants by shouting "money or the box" to advise them on what choice to make, and for decades members of the public would greet Allan on the street or at functions with the phrase "money or the box" and eagerly embrace the man who had brought them such viewing pleasure.
He was born in Durban just before the Second World War and educated there to university level, with his tertiary education focused on music. Although he did not play instruments or sing, his knowledge of music in all its form was formidable and his love of music endured through his whole life. By the mid-60s he was in the world of advertising and he was sent to what is now Harare to join the Lintas advertising agency, wholly owned by Lever Brothers, now Unilever.
Many of the initiatives he started were linked to work for clients of the agency, and his natural flair for broadcasting brought him to television and radio as a freelance broadcaster. His talent took him to a range of presentation situations, from news to interviewing, but it was his special interest in game shows that gave him the most airtime.
As Surf was a leading Lever Brothers brand, many of these shows were branded accordingly. But he led a wide range of sponsored shows, among them the successful radio-based word game on a Sunday afternoon called the Goodwood Letter Game, in which leading celebrities handled a quiz related to words, phrases and expressions, often with hilarious results. Also on television he hosted a Dream House Show that ended with the winner being presented with a home in the suburbs of Harare, along with the Surf 21 show, based on a variant of the blackjack card game.
He also worked in other fields of televised and radio entertainment, among them a series of cooking shows that were linked to competitions for recipes and publication of recipes in daily and Sunday newspapers. Occasionally he was a newsreader, but he preferred the less formal atmosphere of talk shows and focus programmes.
He was arguably this country's best-known and most professional master of ceremonies (MC) not only on television and radio, but at countless live events across Zimbabwe. From modelling school graduations to awards ceremonies and from major launches to top social occasions his mastery of the role of MC as event controller brought his unique brand of class, humour and sharpness to each of these events. His mastery included the understanding that he was not the focus of the event but a link between organisers, content and audiences, something many of today's MCs forget as they project themselves into the limelight, often at the expense of the product or activity on show.
He left Lintas at the time of Zimbabwe's independence, moving to the Michael Hogg agency and soon found himself running the agency's new operation in Kenya. But he was brought back to Zimbabwe in 1983 by Peter Kirschner, a brilliant hotelier who had been appointed to oversee the construction and opening of Holiday Inn Harare. As a Holiday Inn manager, Allan masterminded the entire opening publicity and awareness programme and helped create something innovative for Harare, a night spot in which new talent could be platformed in an atmosphere of great social enjoyment.
This was the Inn Place, which for the best part of a decade was a mixing pot for people from all walks of life and where in the days of the 80s and 90s, when top international films and visiting stars came calling to Harare — one could end up, as the writer did, chatting to the likes of singer John Denver, Oscar-winner Reese Witherspoon or Daniel Craig, whose first film, The Power of One, was made in Harare, and who enjoyed the ambience of the Inn Place. At the Inn Place, the entertainment ranged from song to dance, with occasional comedy added to the menu. From Rozalla Miller to Noreen Welch, the 80s stars were showcased here.
In 1988, when the Holiday Inn operation in Zimbabwe was taken over by the then Zimbabwe Sun hospitality group, he became entertainments director of the Sun group and spent the next 17 years running a series of activities and events that showcased all the hotels and their destinations, and brought a series of local and international shows onto a circuit that included Nyanga, Victoria Falls, Kariba and Bulawayo, and not only Harare. He also masterminded a school holiday entertainment directors programme, in which teachers on leave hosted activities for younger guests at resort hotels, freeing up parents for time to relax. It was hugely successful and was a particular hit at hotels such as Troutbeck Inn and Hwange Safari Lodge.
Also under the Inn Place and Zimbabwe Sun umbrellas came a series of promotional events that included international entertainers, arts and culture exchanges and other initiatives linked to the United States, Britain and many other countries, including Russia, China and others in Africa. One of the most successful, created as a fundraiser for a children's charity, was the visit to Zimbabwe by Hollywood fashion giant Bill Travilla, who was Marilyn Monroe's favoured designer and who brought a selection of her outfits for an exhibition show — including the iconic white dress that famously blew up over the star's face in the film The Seven Year Itch.
The writer also remembers that Riddell arranged visits by other international personalities, among them the first female in space, Russian cosmonaut Valentina Tereshkova, as well as sporting and business leaders, fundraising experts and cultural stars. From the mid-80s onwards, Allan was host of several breakfast radio spots and many visitors were interviewed in these commercially-sponsored slots, giving the Zimbabwean public access to them, their histories and their thinking.
Allan also created the huge Supermodel extravaganza during the 1990s, providing a platform for Zimbabwe's growing number of male and female models to showcase their talents for local and international guests at the Supermodel awards events. This unique programme gave major exposure to top models and led to international contracts for many of them.
His talents in advertising and publicity, broadcasting and entertainment were matched by an interest in and flair for fundraising, among the most notable achievements being his reinvention of the mayor's christmas cheer fund in 1985 after a dormant period of almost 10 years. As chairperson of the fund from 1985 to 1992 he created a series of events each year, culminating in the live Mayor's Christmas Cheer Show, which fundraised for Harare and then for the then four cities of Harare, Bulawayo, Gweru and Mutare. He also conceived and ran many other fundraising events for a wide range of charities, with funds raised always at enviably high levels.
Allan Riddell was active in various organisations and was chairperson of the Advertising and Publicity Club of Harare for a number of years, introducing a concept in which visiting personalities would be invited to be guest speaker at an APC lunch, with names ranging from singer Eartha Kitt to UK comedy star Tommy Trinder on this list.
He was a dedicated fan of radio and television, but found time to enjoy a range of other social activities, from playing squash to going for a daily lengthy walk from his apartment in Harare's avenues area, and from seeing everything on stage at Reps Theatre to reading, following international and local news, hosting and attending social events. He was a longstanding member of celebrity subscription concerts, which have for decades brought classical musicians to Harare.
In 2005 he relocated to Thailand, which he had visited as a holiday-maker in the 1990s. Here he ran an organisation that linked South African and Thai businesses and which helped launch many southern African products to south-east Asia. He travelled between Thailand and his second home in South Africa, and it was in Johannesburg that he found himself when COVID-19 hit in early 2020. While there he was diagnosed with cancer and from then until this past week he engaged in a battle against the disease, to which he finally succumbed on St Patrick's Day, just four weeks short of his 86th birthday.
His legacy is large, extending to all the beneficiaries of his help, mentoring, counselling and professional support, and including anyone who has been exposed to any of his work activities. In the hospitality industry he helped promote programmes of training for incoming professionals, especially linked to sales and marketing, while in the world of entertainment he opened doors for a great many artistes and promoters.
The writer will always remember Allan's determination to make things happen — and to happen well. Never one to be deterred, he always demanded that a "minus be turned into a plus." Allan's favourite expression in describing colleagues with whom he worked was "the team" and it was his sense of team spirit and co-operative collaboration that helped drive his endeavours, 99% of which were successes.
Across the world tributes have been pouring in since Friday from members of that extended team and from the many people who have found enjoyment, education, information and satisfaction from all or some of his ventures.
Related Topics