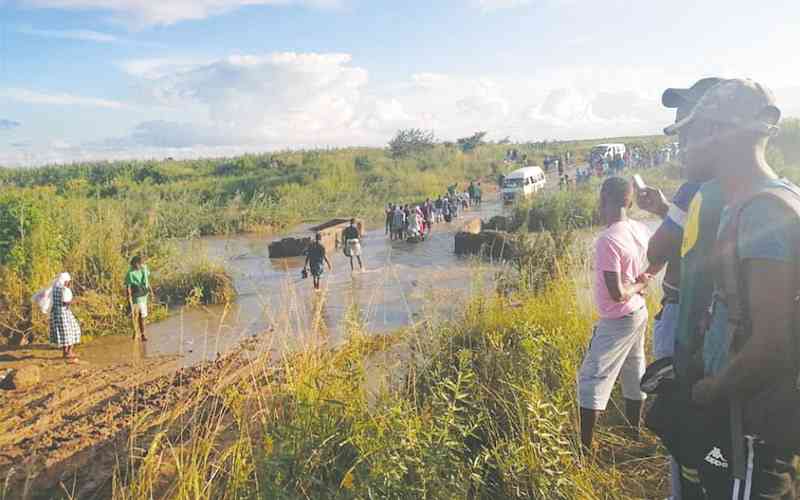 MANY would most likely remember Nyatsime in Chitungwiza on account of the murdered opposition activist Moreblessing Ali last year and the violence that rocked her funeral wake.
Her mutilated remains were found in a disused well in June 2022 after she was reported missing weeks earlier.
Nyatsime residential area, named after Nyatsime River, sprouted around 2007 in an area under Manyame Rural District Council, when some people from Chitungwiza crossed the river, invaded the area and allocated themselves residential stands.
The current heavy rains pounding most parts of the country have exposed the area's informality after the peri-urban settlement was literally cut off by the flooded Nyatsime River, where there is no proper bridge for residents to cross and access their workplaces and services such as schools and clinics in Chitungwiza and Harare.
The only bridge that connects Nyatsime to Chitungwiza and Harare is always submerged when it rains.
"When Nyatsime River is flooded, we don't go to school, but some take the risk," a student at Seke 8 Primary School in Chitungwiza told NewsDay.
For a week since last Friday, the river was heavily flooded and the makeshift bridge was completely submerged.
Unemployed young men have, however, seen an opportunity to make money by helping people to cross. They charge $450 for children and between US$1 and US$2 for adults wishing to be taken across the flooded river.
The children are carried on the back while the adults are held by hands.
Ward 9 councillor Masimbi Masimbi said Nyatsime River has been giving them sleepless nights for years.
"We are in trouble. The situation is so pathetic. Another issue is that there are crocodiles in the river, so I am encouraging people to avoid crossing even when the water isn't much above the bridge," Masimba said.
The crossing point is a always a hive of activity with not only Nyatsime residents using it, but other residents from Chitungwiza as well using it to access their fields at Dunnottar Farm.
In 2020, Nyatsime residents appealed to government for a higher bridge so that they can easily access Chitungwiza and Harare during the rain season.
Efforts have been made by residents, led by the community leaders, to refurbish the makeshift bridge but without much success.
"Some time ago we were made to pay US$30 for the construction of a high bridge and nothing happened. People are no longer interested in contributing," a resident Rumbidzayi Nyamundaya said.
Masimbi told NewsDay that plans to construct a steel bridge passable by vehicles and pedestrians were underway after engaging a private company.
"There are engineers on the ground. They went to the bridge, surveyed and promised that construction would start anytime soon," he claimed.
"What is left for us is to sit down with the community to see contributions which we can make."
Manyame Rural District Council chief executive officer Farirai Guta, who is also the leader of a technical team formed to support the Manyame-Chitungwiza joint committee said: "The challenge is that a new bridge may not be where the current one is because the whole of Nyatsime needs re-planning. I don't think that that's where the actual bridge would be.
"You know that for now it's an unplanned settlement. So, it's a bit difficult to put resources in the state the area is. Even the roads, they are not the actual roads that will be used after re-planning and reorganisation. We can't put resources until it is clear on the way forward. But time and again the community and its leadership find ways to deal with the issue. It's hard to put resources there."
Follow us on Twitter @NewsDayZimbabwe
Related Topics