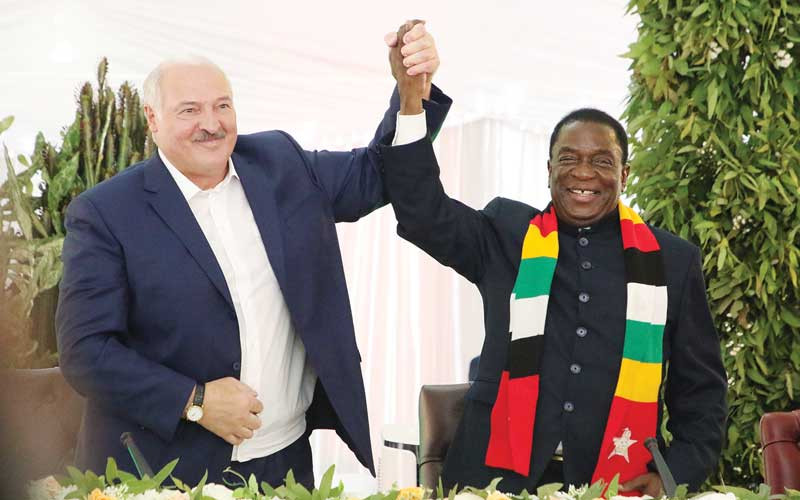 VISITING Belarus President Alexander Lukashenko told his ally President Emmerson Mnangagwa to work extremely hard to win this year's elections which he said will not be a stroll in the park for the Zanu PF leader.
Speaking during the signing ceremony of eight bilateral agreements between Belarus and Zimbabwe at State House yesterday, Lukashenko said the Zanu PF leader would face stiff competition in general elections likely to be held by end of July.
Mnangagwa was the darling of many Zimbabweans when he assumed power after dethroning the late former President Robert Mugabe in a November 2017 coup.
But in 2018, Mnangagwa narrowly won against youthful opposition leader Nelson Chamisa in a disputed presidential election. Since then Mnagagwa's stock has significantly dipped, opinion polls have indicated.
"My dear President, this year you're going to face a huge challenge, presidential, parliamentary elections and local elections. This will be a huge challenge for your nation, and I hope that you will be able to pass through this. Please don't trust liars, there are no miracles. Good results and success can only be achieved through hard work," Lukansheko said.
"So, I am hopeful that this year you will make the right choice. By making the right choice make sure that you will be able to show the entire world that you deserve the independence that you won, and you're going to preserve it further. The people of Zimbabwe deserve it, please be very mindful and careful. With all this hard work you will be able to achieve what you want to achieve."
In response to Lukansheko, Mnangagwa said his Zanu PF party does not lose elections. He dared all interested Zimbabweans to challenge him because the "ground is open".
"Let me assure you that since independence, Zimbabwe has never omitted to hold general elections when they fall due. Every five years we held elections since 1980 and the ruling party Zanu PF has been winning all these elections. We shall continue winning. It's true that we are a democracy. Last elections we had over 50 political parties which contested and I had 23 presidential contenders, and this is beautiful," he said.
"The more we have people who want to become President, the merrier it is. This time around I don't know how many want to contest. The ground is open. In Zanu PF, we are extremely confident that we are going to win these elections."
On the bilateral agreements signed by two countries, Foreign Affairs minister Frederick Shava and Belarus Foreign Affairs minister Sergei Aleinik first established a Joint Permanent Commission where they appended their signatures.
Other agreements were on reciprocal protection of investments; mutual recognition of educational qualifications; avoidance of double taxation and prevention of fiscal evasion with respect to taxes on income and property; contracts on co-operation of supply of tractors and grain harvesting equipment; supply of equipment for the construction and modernisation of grain storage complexes; supplies of machines and equipment for the timber industry and co-operation between City of Harare and Minsk.
Mnangagwa said Zimbabwe was honoured by Lukashenko's visit which demonstrates the "warm relations" between the two countries.
"This visit strengthens, deepens and consolidates our bilateral relations. And as a result we agreed to open embassies in each other's capitals. The two countries are victims of sanctions from the West. From that point of view, we are twin sanctions' victims.
"Belarus has a very developed agricultural sector, and we have begun benefiting from the mechanisation from Belarus. As you have seen we have signed protocols and agreements relating to the mechanisation, modernisation and industrialisation of our agricultural sector. We now wish to further this cooperation to extend to other aspects of the economy like mining and tourism," Mnangagwa said.
Lukashenko said Belarus had no intentions of colonising Zimbabwe, adding that the world cannot develop without relying on Africa.
"I would like to emphasise that while coming to Africa we bring peace and science and technology. We are not utilising the colonial style. We are not here to do that. We are bringing peace, we are here to train specialists to help you achieve for the progress of your economies," the Belarusian leader said.
"Whoever we met in Africa, we have good relations with them. Zimbabwe and Belarus are now working together considering possibilities of attracting other countries in the region that include Mozambique into our bilateral cooperation because it's an agricultural country with very vast ocean lime."
The bilateral relations between Zimbabwe and Belarus began four years ago.
Related Topics