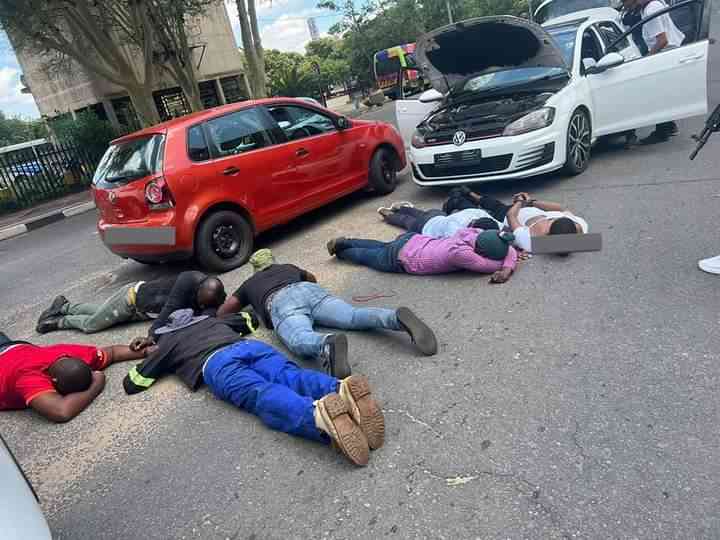 IN a sting operation this week South African Police Services (Saps) arrested two Zimbabweans and five Saps serving members over a violent crime wave in Johannesburg's Fordsburg area.
In a statement, Saps spokesperson for Johannesburg Metropolitan Police Department Xolani Fihle said: "Seven male suspects between 26 and 45 years of age were arrested by the Johannesburg Metropolitan Police Department (IIOC) Undercover Reaction Unit for conspiracy to commit a crime (robbery) and possession of three unlicensed firearms and ammunition in Fordsburg, Johannesburg.
"On Wednesday November 16, 2022, officers received a tip-off about a group of individuals planning a robbery in the Fordsburg area using a white Volkswagen Golf 7 GTi and a maroon Volkswagen Polo and officers were deployed at strategic points in the area waiting for the suspects. Not long after the deployment, the said vehicles were identified and the takedown was initiated."
The suspects' white Volkswagen Golf 7 GTi without front and back registration numbers was intercepted and three male occupants were nabbed, leading to the recovery of an unlicensed 9mm pistol, a Saps bulletproof vest, caps and badges.
It was discovered that the driver of the vehicle is a Saps member.
Saps also intercepted a second vehicle, a maroon Volkswagen Polo with four male occupants. Two unlicensed firearms, a revolver and a 9mm pistol were recovered.
The suspects have allegedly been robbing and terrorising communities in the Fordsburg and Mayfair areas for some time.
"All seven suspects who included five South African and two Zimbabwean nationals were detained at Johannesburg Central Saps where a case has been opened for further investigation," Fihle said.
Meanwhile, Saps in Musina have been silent about the kidnappings and robberies in which four Zimbabwe National Parks and Wildlife Auhtority officials, four Zimbabwe Revenue Authority officers, a Beitbridge court official, a son of a businessman and his wife, and dozens other Beitbridge residents have been mugged at the new traffic intersection between Musina and Beitbridge Border Post.
Residents have called for co-operation between Saps and Zimbabwean police in Musina and Beitbridge to curb crime.
Related Topics