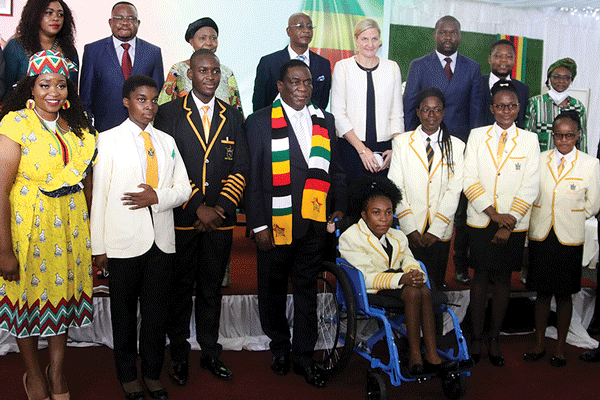 BY BLESSED MHLANGA PRESIDENT Emmerson Mnangagwa wants a Junior Parliament with robust debates on key issues.
Mnangagwa said he was disappointed with submissions from junior parliamentarians which he said lacked debate when he was officially opening the Junior Parliament at the State House yesterday.
"It's a pity that it's only a select few who are here. Parliament actually should have more members sitting together and quarrelling. It (Junior Parliament) did not have members of the opposition criticising it," Mnangagwa said.
"In future, I think we should include them so that you don't all speak in one direction."
The President was speaking after members of the Junior Parliament uniformly raised concerns affecting learners, including failure to access e-learning by students from poor backgrounds and marginalised communities' due to the digital divide.
Junior parliamentarians called on government to lower data costs and avail smartphones for learners to ensure those from maginalised communities' also access online learning.
Data prices have been going up nearly on a monthly basis.
Finance minister Mthuli Ncube recently introduced a prohibitive tax on smartphones in an era where learning has gone digital much to the anger of the child parliamentarians.
"Going forward I expect those responsible to introduce the constituency twinning process to enable the youth to better understand and appreciate our great country Zimbabwe," Mnangagwa said.
"This will help consolidate unity and increase knowledge across various communities throughout the country. There is always a need to narrow the gap between aspirations and what is possible, the resultant transfer of skills and knowledge, capacity building, exchange of best practices as well as networks between towns…"
Young parliamentarians called on government to deliver its on 2020 promises to provide smartphones to students.
Follow Blessed on Twitter @bbmhlanga
Related Topics