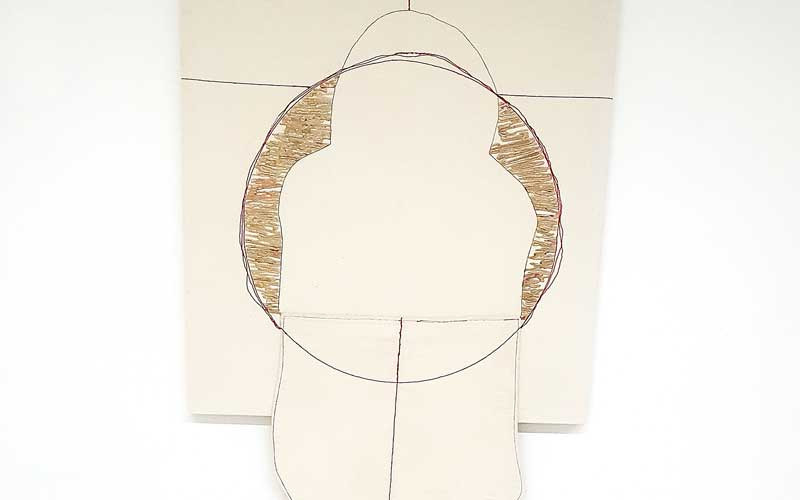 NOT all artists are interested in making pretty pictures with interesting colours and Zanele Mutema's latest exhibition at First Floor Gallery (FFG) in the capital does not yield easily to a casual viewer.
It is fair to say the art is not simple to read. Titled Soft Equinoctial, the exhibition challenges stereotypes about visual art.
The body of work is made up of silhouettes of the artist, which are drawn, stitched, cut out and presented in different forms.
Interesting details are in the red yarn that has become part of the artist's vocabulary as it has featured in previous exhibitions, particularly Systemic Necropolis (2020).
There is also the golden cast of her feet that stands on the floor against the drawing of her shadow.
The list of works are titled Righteous Cords, a series that is numbered from one to seven, Blest Doubts from one to five, Meritorious Vessels from one to four, and Opulent Burdens from one to eight.
Given the number of artworks that share the same title, the artist clearly finds the subject important enough to warrant multiple renditions.
When people visit an exhibition, most of them are embarrassed to admit that they don't understand some artwork, but a viewer is not always expected to know.
Asking difficult questions can be a more meaningful engagement than trying to extract a message.
In Mutema's latest exhibition, she has upped the ante from her previous show in the same venue, another immersive show that was titled Ranezuro Rangu Ngariziye.
It somehow shows what direction she is taking in her career. The laymen will certainly have many questions regarding what they are looking for, which will be futile until they stop trying to figure it out and allow the experience to set in.
It requires patience to wait for that magical moment when one gets it. The work aspires to fulfil an emotional and spiritual need.
In the artist statement, she says: "This piece of work (literally) is a physical construction of an unlearning attempt to discover and connect to my vault of Heaven.''
She proposes that the work is a fleeting moment of feeling.
From the curatorial statement, co-founder of FFG Valerie Kabov notes: "In Mutema's work, (this) conception of self through time is palpable and immanent. Her own physicality, her silhouette is used both as a point of departure and an anchor for the conversations she proposes about who we are in different contexts.''
Mutema's illuminating words offer comforting hints on how to look at the artwork, and clues on how to read the symbols in the exhibited work.
If some viewers come away frustrated and feeling that the work is elitist, it may be a result of calcified misconceptions about the artist's responsibility, and what art should accomplish.
In this body of work, Mutema invites the viewer to not only perceive, but also partake in her personal experiences.
"This work is an invitation to one and all who would like to share my softness ..." she says.
Fellow artist Evans Mutenga, who was at the opening of the exhibition, spoke highly of Mutema, putting her in a category that includes other excelling female artists such as Virginia Chihota, Portia Zvavahera and Prudence Chimutuwah.
He commented: "The exhibition proves that Mutema is moving with the times and creating work that represents where the global contemporary art movement is."
Mutenga lauded Mutema for showing true commitment as an artist with her latest body of artworks that demonstrates boldness, bravery, and an experimental attitude.
Related Topics