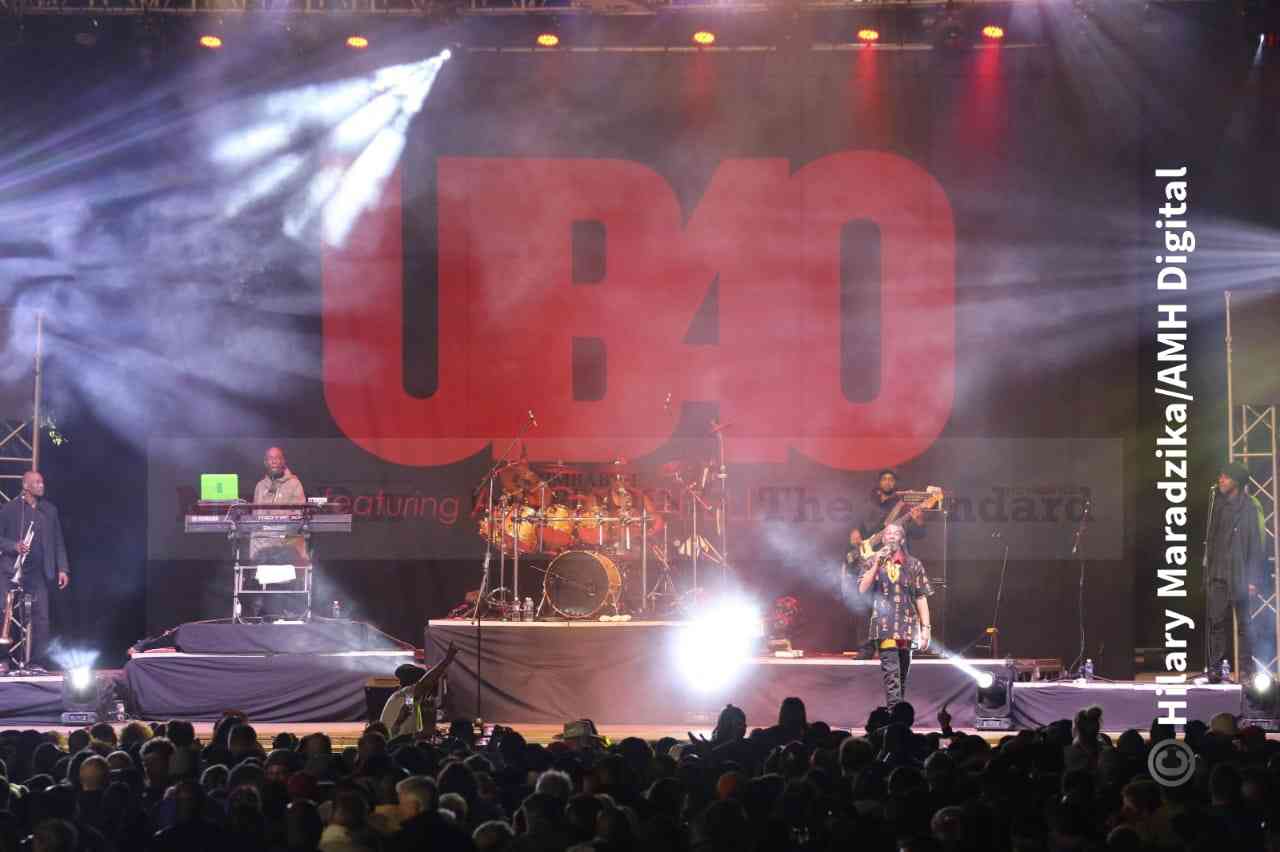 BRITISH musician Ali Campbell on Thursday night gave a scintillating show, proving his critics wrong when he performed with a full set band under the name UB40 featuring Ali Campbell at Old Hararians in the capital.
Campbell, born Alistair Ian Campbell, is embroiled in a wrangle over the UB40 brand with his erstwhile band members at the British reggae and pop outfit.
The Birmingham-born singer, who was a founding member of UB40, songwriter and lead vocalist, quit the band in 2008.
He said for many years he was unhappy with the business practices and business managers of UB40, hence his decision to quit after almost 30 years.
Since he went solo, Campbell had been entangled in a bitter dispute over the name UB40.
On the eve of his Harare show, original members of the Birmingham-based group nearly "spoiled the party" when they responded to a local publication saying they were not in Zimbabwe for the show.
They described Campbell as an ex-member who left the group 15 years ago.
However, Campbell needed one and half hours to prove his critics wrong with a sparkling performance before a full house at Old Hararians Sports Club.
It was a show that brought back old memories for hordes of fans that made their way into the Old Hararians rugby ground.
Campbell opened his act with Here I am Baby sending fans who had been waiting patiently for him to come on stage.
From The Way You Do The Things You Do, Homely Girl, Grooving, Cherio Oh Baby and One In Ten fans were singing along as they recalled old memories.
UB40 featuring Ali Campbell also gave fans a taste of their new album titled Unprecedented when they played the title track, a tribute to one of their late members Astro who died in 2021.
They played most of the hits such as Impossible, Many River To Cross, Food for Thought, Kingstone and wrapped up the show with (I Can't Help) Falling in Love With You.
It was the group's all-time hit Red Red Wine that brought the house into frenzy.
Fans said the show was a once in a life opportunity, which they could not miss.
"I think Ali is the face of UB40, what people were saying earlier was just a way of trying to spoil the party," said 55-year-old Jack Masendeke.
"The guy is good and he has brought old memories."
Danny Anderson, who came from Lusaka, Zambia said he could have gone to South Africa if the show had not been done in Harare.
"I came alongside my girlfriend just to enjoy ourselves. We could have gone to South Africa, but we came here because Harare is closer," Anderson said.
"UB40 brought back old memories and we enjoyed ourselves."
A local musician, who spoke on conditions of anonymity, said the sound was perfect.
"We have to learn from these international guys when it comes to sound engineering. We are giving fans a raw deal when it comes to sound," he said.
Ngoma Nehosho Promotions, who were behind the show, thanked fans for turning up in numbers.
Locals DJ Chiwedaar, Mimmie Tarukwana, Josh Ansley and Sylent Nqo warmed up the stage for the British music outfit.
Related Topics