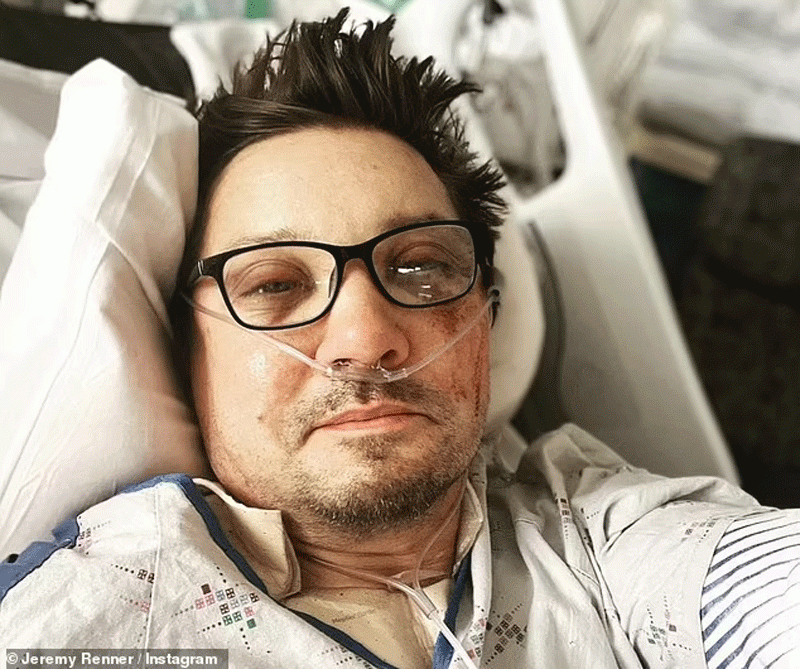 Jeremy Renner's Hollywood career has been thrown into serious doubt today, as a source close to the star revealed that acting is no longer a 'priority' to him following his horrific snow plow accident.
An insider who has recently spent time with Jeremy, 52, tells DailyMail.com exclusively that 'although he does still love acting, Hollywood is just not a priority to him anymore'.
According to the source, Jeremy's focuses have shifted away from his on-screen career in the wake of his terrifying New Year's Day accident at his Lake Tahoe home, where he was crushed under a 14,000-pound snow plow, breaking more than 30 bones.
'Jeremy believes that he survived the accident so that he can use his platform to really create change in the world,' the insider shared.
'He is very proud of the work that he has done, but this entire situation has really shown him that there is so much more that he could be doing to help others,' the insider says.
Jeremy has since left the Lake Tahoe home where the accident occurred and has returned to his Los Angeles property, where he is focusing on his recovery - having been left unable to walk as a result of the injuries he sustained during the incident.
The source continued that Jeremy's mother Valerie, 69 - who accompanied him to the 2010 Oscars - has been a 'tremendous' source of support for the star, revealing that she has 'been by his side as much as possible'.
'His mother come to stay with him most weekends, as well as his daughter Ava,' the friend says, referring to his nine-year-old child with ex Sonni Pocheco.
'He is really only focused on his recovery and is doing rehabilitation to learn how to walk again. Jeremy knows is is so lucky to be alive.
'Each day is a little better than before and he is definitely making progress, but the progress is slow.'
DailyMail.com has contacted Jeremy's spokesperson for additional comment.
On New Year's Day, Jeremy was ran over by a seven ton snowplow while helping his nephew to remove his care from the driveway at his residence near Reno, Nevada, after the vehicle got stuck in the snow.
However, his snow plow began to slide down a street after the car was towed, which prompted the actor to jump out of its cab.
After he exited the vehicle, Renner realized that it could potentially hit his nephew, who was with him at the time of the incident. The Mayor of Kingstown star then attempted to re-enter the snow plow in order to divert its path but he was pulled under its left side track and run over during the attempt.
Related Topics