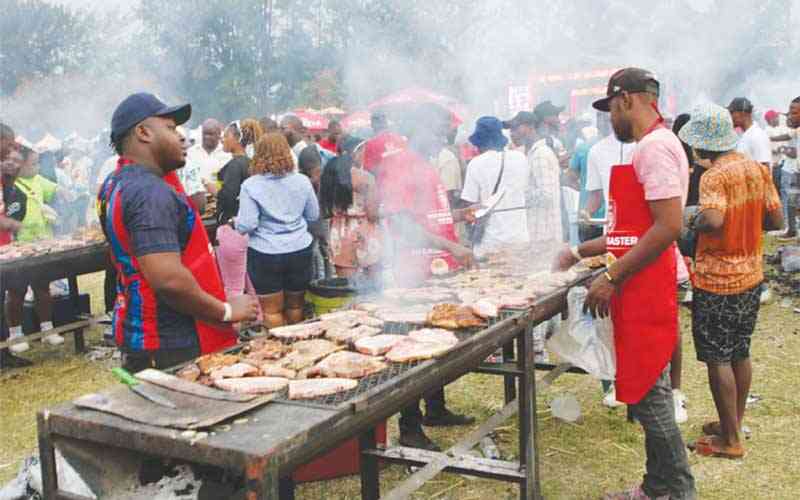 A 21st century experience was witnessed on Saturday at the Castle National Braai Day at Old Hararians Sports Club in Harare.
The festival was, indeed, a contemporary experience with multitudes of Zimbabweans attending the event.
While Zimbabwe is slowly adapting and embracing cultural diffusion in terms of clothing and fashion, Old Hararians Sports Club, was filled with mainly adults and youths dressed in trending clothing styles, especially the female attendees.
The most common fashion style seen at the event was tight jeans, bum shorts, miniskirts, body-hugging dresses and designer sneakers.
Men were also modernly dressed in summer wear with jeans, T-Shirts and shorts being predominant.
The event was typical of American annual events such as Coachella and Rolling Loud, especially given the modern technology gadgets brought to the venue.
In the middle of the arena was a magnificent stage.
The stage set up was world class and advanced in terms of lighting and sound projection.
The stage had enough space for the artistes and their bands to co-ordinate smoothly throughout their sets.
The arts and entertainment industry in Zimbabwe is definitely one sector of the economy where technology is being actively embraced by the day.
Almost everyone attending the show had a smartphone. Videos were recorded, pictures were captured and at different intervals during the performances from Nutty-O, Freeman and Winky D the sky could be seen lit up with flashlights.
During the day, merrymakers took turns to use one of the most popular video-creation equipment in the country, the 360-degree camera booth.
Speaking to NewsDay Life & Style, the owner of the camera booth Amos Moyo said: "I am glad that people here are very much interested in booking the 360-degree camera booth to capture their happy memories during this year's national braai day festival."
Moyo added that the Zimbabwe entertainment scene was fast growing as people are embracing new technologies and want to show off their experiences on modern equipment like the 360-degree camera booth on their social media accounts.
Inasmuch as the event organisers managed to provide a world-class event to the merrymakers, the artistes who performed at the event offered their best.
The line-up had dancehall chanters Enzo Ishall, Freeman, Nutty O and Winky D.
The artistes took turns in that order to wow the merrymakers with live performances as they dropped hit after hit.
It was clear from the performance by the female wheelspinner DJ Naida that in the entertainment industry, women empowerment is being embraced.
DJ Naida eloquently played sets of international music mixed with hits from Zimbabwean artistes.
Overall, the castle national braai day was a ball of fire as merrymakers enjoyed the music, meat and beer that was readily available.
Follow Rejoice on Twitter @rejoicephi1998
Related Topics