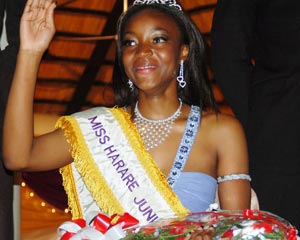 ALL is set for this year's edition of Miss Harare Junior beauty pageant to be held today in Rainbow Park Lane auditorium in the capital.
WINSTONE ANTONIO,OWN CORRESPONDENT
The prestigious pageant running under the theme Dawn of Beauty will see a bevy of 25 teenage beauties vying for the coveted crown.
Speaking to NewsDay, Audrey Tirivanhu, who is part of the organising team, said all was set for the event and urged fun-loving Hararians to come in their numbers to support the event.
"Let us support the cause of the girl child. We have the talent in Zimbabwe, but lack of support has been the major drawback," she said. "The aim of the pageant is to give the young models an understanding of the modeling industry, as well as the opportunity to be exposed to different pageants.
"If such types of events are well-supported and funded, we will able to groom models that can excel at the global stage and help to put our nation on the world map in terms of modeling," she added.
According to Tirivanhu, open auditions were held for the past four weeks in the capital where they have come up with the final 25 potential models around Harare.Apart from the modelling extravaganza, Lethal Fam, Amvis, Deejay Naida, Real, Day Breakers, Karma, DJ Ricky J, FIO, SOD Muzik and Evolution, among others, are billed to perform on the night, while Your DJz, DJ Trickx – Heavyweight DJ and DJ Miss Shaz will be on the turntables.
Miss Harare Junior pageant is an annual event which is the brain child of the Harare Junior City Council that seeks to give a platform to teenagers to show that they can do more than just books. The pageant is open to girls between the ages of 15 to 20 years, from different schools and colleges around the capital.
Last year 17-year-old Anesu Samkange from Arundel High School was crowned the winner after shrugging off 17 other contestants at a colourful ceremony held at Pandhari Lodge.
Shamiso Mutasa from the Christian College of Southern Africa was crowned the first princess, while Tadiwa Chidyausiku and Dyonne Tafirenyika of Girls' High School were capped the second princess and Miss Personality respectively.