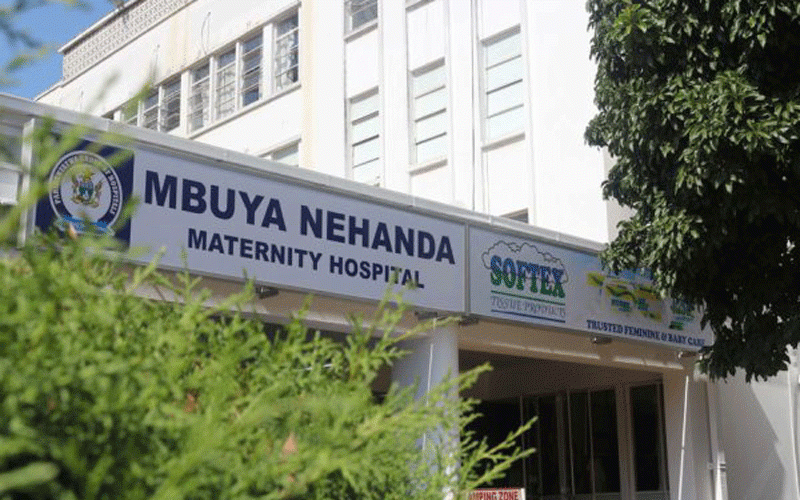 THE significance of quality maternal healthcare in Zimbabwe cannot be overemphasised.
Despite renewed concern over maternal healthcare in Zimbabwe, evidence indicates that the sector remains inundated with challenges.
According to the Multiple Indicator Cluster Survey (2019), Zimbabwe has a maternal mortality ratio of 462 deaths per 100 000 live births, and a neonatal mortality rate of 32 deaths per
1 000 live births.
These statistics are worrying and indicate that Zimbabwe is unlikely to meet the Sustainable Development Goals (2015) target of reducing maternal mortality.
While maternal healthcare challenges are attributed to several challenges, chronic underfunding remains the leading factor.
The national budget is the main instrument through which the government makes a tangible commitment towards advancing gender equality and the realisation of women's rights that it made at international, regional, and domestic levels for example the Beijing Platform for Action, Sadc Protocol on Gender and Development and the Gender National Policy.
However, over the last few years, budget funds earmarked for maternal healthcare in Zimbabwe have remained tightly limited, notwithstanding the sustained challenges within the sector which have been exacerbated by the advent of the COVID-19 pandemic.
A trend analysis of the national budget for healthcare over the years indicates that the government has constantly failed to allocate at least 15% of the total budget to the health sector as per the Abuja Declaration minimum threshold.
Government's inadequate spending on the sector means that the costs of healthcare are disproportionately borne by women, who constitute the majority of the working poor.
Pregnant women and girls are at risk of life-changing childbirth-related injuries, including obstetric fistula as many shun public hospitals in favour of home-based deliveries due to inadequate infrastructure as evidenced by the emergency of midwives in high-density suburbs.
They also shy away from delivering at hospitals due to high hospital-related costs.
Local authority clinics have continued to charge patients, citing chronic funding shortfalls from the national budgets.
For example, the Harare City Council on June 20 was reported to have raised maternal health fees to US$22 and consultation fees to US$9,20.
Zimbabwe has one of the highest maternal mortality rates in the world and pregnant women have to gamble with their lives by opting for home births due to incapacitated public
institutions.
Evidence from a briefing paper on gender responsive public service delivery in Zimbabwe by the Zimbabwe Coalition on Debt and Development (Zimcodd) indicates that gender-responsive healthcare is still a pipe dream, particularly in rural and peri-urban areas.
It was rated 43% in Gokwe, 40% in Chipinge, 37% in Goromonzi, 30% in Binga and 33% in Matobo.
In a recent sad development, Zimbabwe Peace Project reported that a woman gave birth in a toilet after she was neglected by healthcare workers at Glen View Polyclinic in Harare.
The woman was turned away from the maternity ward by a nurse because she was giving birth for the fifth time.
This reveals the degree to which giving birth has become a burden in the country.
Against such a crisis, there is a need for government to ensure that there is adequate funding for maternal healthcare and establish primary healthcare services that are gender sensitive with functional maternal healthcare systems. -Zimcodd
China has a huge influence on world economics
IN response to Africa can capitalise on China's ascendency, American (and Canadian) governance, unlike China's, is heavily steered and, therefore, disadvantaged by corporate interests, sometimes through economic intimidation (and I'm not just talking about huge party donations come election time).
It's as though the elected heads are meant to represent huge money interests over those of the working citizenry and poor.
Accordingly, major political decisions will normally reflect what is in the influential corporations' best interests.
For example, if China gets offended, it can threaten to disallow/discontinue access by the offending Western nations' privately-owned big businesses to China's huge consumer base, the world's largest.
Predictably, the big businesses' corporate lobbyists will unleash their fullest manipulation efforts on their home-nation's government to capitulate to Beijing's demands.
And China's control over its own industry/business sector thus market may even give it an additional edge over Western free-market nations.
Anyone who doubts the potent persuasion of huge business interests here needs to consider how high-level elected officials can become crippled by implicit/explicit threats to transfer or eliminate jobs and capital investment, thus economic stability, if corporate "requests" aren't met.
It's a crippling that's made even worse by a blaring news media that is naturally critical of incumbent governments, especially in regards to job and capital transfers and economic weakening.
Seriously, why wouldn't China take advantage of this Western-way weakness? -Frank Sterle Jr
Kudos to Zim teachers for soldiering on during challenging times
OCTOBER 5 every year is World Teachers' Day. The Gambia-Zimbabwe Friendship Association celebrates and appreciates all teachers around the world.
We are proud of teachers in Africa, and in particular Zimbabwe, who soldier on in a challenging environment and still produce great results and excellent academics. We celebrate transformers and reformers of generations.
On this day, we take the opportunity to convey our deepest gratitude to our teachers and mentors, who continue to
play a part in the building of society.
Teachers are some of the most important people in our societies.
While many are successful today, it could not have been possible without the support and influence of these great men and women who have moulded our lives.
The act of positively impacting a generation through knowledge cannot be overemphasised.
It is by far the noblest and most honourable thing to do.
From all of us at The Gambia-Zimbabwe Friendship Association, we wish you a happy International Teachers' Day once more. -Kemo Bajong, vice-chairperson,The Gambia-Zimbabwe Friendship Association
Related Topics