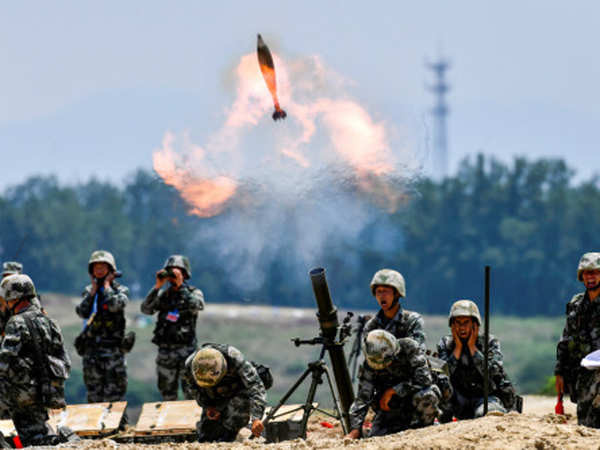 Many countries in the Indo-Pacific try to avoid direct confrontation with China thanks to its rise as a dominant military power in Asia. However, the reality of its military prowess can be different and far from the reality as several reports indicate that Chinese armed forces are facing major problems and challenges. Even China's military has started acknowledging them in public now. Lack of skilled and talented soldiers to operate advanced weapons, Chinese youth's apathy to join the military, tactical incapacity, combat inexperience, an ageing population and the one-child policy are major concerns.
Recently, the People's Liberation Army (PLA) of China openly acknowledged the shortage of troops trained in hi-tech operations, which limits the use of advanced equipment to its full extent. "in particular, due to a training resources imbalance, it is difficult to organize the training of some commanders and key soldiers systematically; and it is difficult to organize the final training assessments as scheduled," reads the military report.[1]
China has been making efforts to modernize its armed forces, which saw heavy investments in research and development of modern weapons and equipment. However the shortage of well-trained military personnel remains a major concern for China. Shanghai-based military analyst Ni Lexiong said the PLA needed to enroll more highly educated personnel and re-enlist retired soldiers to operate advanced weapons. [2]
Military strategist Edward Luttwak said manpower shortage in China's army and navy isa big problem as the Chinese youth is inclined towards joining the glamourous air force. "these days air and naval forces need high skill levels across the board, and that is the PLA's Archilles' heel: bright young Chinese are possibly the planet's most civilian-minded population, least inclined to serve under the command of a military hierarchy, "he said. [3]
Over 30 percent of the Chinese population will be 60 or older by 2035, and revocation of the One Child policy would take a lot more time to reverse the current demographic crisis. The ageing population and the negative effects of the One Child Policy have created challenges for the 2-million-member PLA, said Loro Horta, a diplomat and researcher at Singapore based S.Rajaratnam School of International Studies. "The one-child policy has created a situation in which one child has to look after two parents. As a result many families are reluctant to see their children follow a military career. One-child policy has led to a spoiled generation of young Chinese with no stomach for the rigorous military life, she said.
As part of finding shortcomings in the PLA's capabilities, the China Military Commission has been carrying out internal assessments for the over three decades now. The term "Two Compatibles" coined by former Chinese president Hu Jintao highlighted the lack of modernization in PLA and cast doubts on its ability to achieve victory. [4]
Now the incumbent president Xi Jinping has come up with "Five Incapabilities" -officers' inability to judge situations, to understand higher authorities' intentions, to make operational decisions, to deploy troops, and to deal with unexpected situations. "These incapables highlight current PLA weaknesses that would prevent it from achieving military modernization by 2035 and becoming a world class military by 2049", said Steve Sacks, a military analyst at US marine Corps. [5]
PLA Daily, the Chinese military's mouthpiece, has reported China's Rocket Force picking holes in PLA's combat readiness in overseeing conventional and nuclear missiles. [6] PLA Navy (PLAN) too is facing problems at a technological level. "Despite the fact that the navy's strength, weapons and equipment continue to improve, we have weaknesses at the technological level," rear Admiral Du Benyin, deputy commissar of the PLAN's South Sea Fleet, wrote in China Daily. [7]
In 2018, an artillery brigade commander said "We commanders still work with traditional methods and concepts for its informatized and digitized equipment." [8] [9] Another battalion commander named Zhao Jianxim said "We only studied the capabilities of older tanks, but have not completely understood new ones". [10] Timothy R. Heath, defence researcher at California based RAND Corporation, said the Chinese military lacked combat experience as its major military battle dated back to 1979. "The few combat veterans who remain in service will all retire within the next few years, which means the military will soon have no personnel with firsthand combat experience," he said. "Without the test of combat, the PLA's war-fighting prowess remains unproven" [11]
[1]
https://www.scmp.com/news/china/miliary/article/3205251/Chinese-military-short-troops-trained-hi-tech-operations-pla-daily-reveals-rare-show-candour
[2]
https://www.scmp.com/news/china/miliary/article/3205251/Chinese-military-short-troops-trained-hi-tech-operations-pla-daily-reveals-rare-show-candour
[3]
https://unherd.com/2023/03/the-myth-of-chinas-military-might/
[4]
https://warontherocks.com/2019/02/the-chinese-military-speaks-to-itself-revealing-doubts/
[5]
https://thediplomat.com/2014/04/chinas-military-has-a-hidden-weakness/
[6]
https://www.reuters.com/world/china/china
[7]
https://digital-commons.usnwc.edu/cgi/viewcontent.cgi?article=1013&context=cmsi-maritime-reports
[8]
https://tv.cctv.com/2018/12/09VIDEVrWtoEDOb4UaWQAYhVwc181209.shtml
[9]
https://warontherocks.com/2019/02/the-chinese-military-speaks-to-itself-revealing-doubts/
[10]
https://www.globaltimes.cn/page/201901/1136390.shtml
[11]
https://www.rand.org/blog/2018/11/chinas-military-has-no-combat-experience-does-it-matter.html
Related Topics