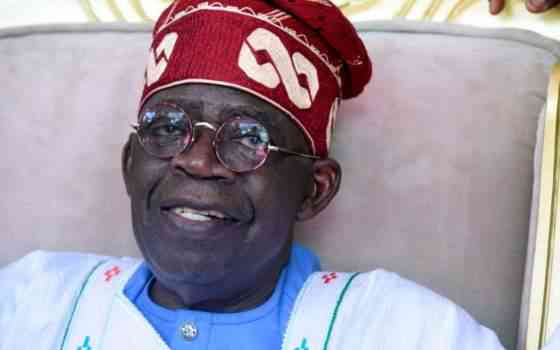 Anger and disappointment is how many Nigerians are feeling after a presidential candidate had a rare media engagement during an appearance at Chatham House, a UK-based think-tank on Monday.
Bola Tinubu, a two-time governor of Lagos state who is running for the governing All Progressives Congress (APC) in February's polls, has avoided the Nigerian media since winning the party's ticket, delegating a retinue of spokespeople to speak on his behalf.
He has also has shunned presidential debates and townhall meetings with other candidates in the lead up to the elections.
As a result many who had tuned in to the heavily publicised appearance in London had high hopes of hearing Mr Tinubu answer key policy questions.
How would he deal with widespread insecurity in Nigeria? How would he solve the country's huge unemployment rate? How would he stop oil theft in the Niger Delta?
Thankfully, these questions were asked by journalists inside the packed hall but many were stunned as Mr Tinubu elected aides to respond on his behalf, a departure from the norm at the institute popular with those seeking elective offices in Nigeria.
A spokesman for the candidate of the main opposition Peoples Democratic Party (PDP) described it as "an abdication of responsibility" while many others said it confirmed Mr Tinubu's lack of physical and mental rigour to lead Africa's most populous country.
But Dele Alake, his media adviser - who answered a question on his behalf at the event - said those criticising Mr Tinubu "are ignorant of the nuance and dynamics of leadership".
"He wanted to show the calibre of his team," he said.
The APC candidate did take some questions though, speaking publicly for the first time on controversies surrounding his age and work profile.
He confirmed he was 70 saying he was born in March 1952 - there had previously been a lot of speculation about his age.
He also said that he had been schooled at Chicago State University and later worked at financial consultancy firm Deloitte, both facts have been greatly disputed in the past.
Related Topics