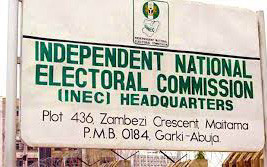 Unknown assailants have razed the offices of the National Electoral Commission (Inec) in the Izzi local government area of south-east Nigeria's Ebonyi State amid concerns poll violence could mar the February 2023 presidential vote,
Inec national commissioner Festus Okoye said no one was injured in the attack but all poll materials in the office were destroyed.
"These include 340 ballot boxes, 130 voting cubicles, 14 electric power generators, large water storage tanks, assorted office furniture and fixtures and yet to be determined quantities of permanent voters' cards (PVCs)," Mr Okoye was quoted as saying.
He said the Nigerian security agencies had begun investigating the incident.
The electoral agency has shared images and a video showing the destruction after the attack.
This is the third attack on an electoral agency office this month after other incidents in the south-western Osun and Ogun states on 10 November.
On 12 November, Inec called for the deployment of army and police teams to its offices countrywide following the attacks, which the US and UK have expressed concerns about.
Related Topics