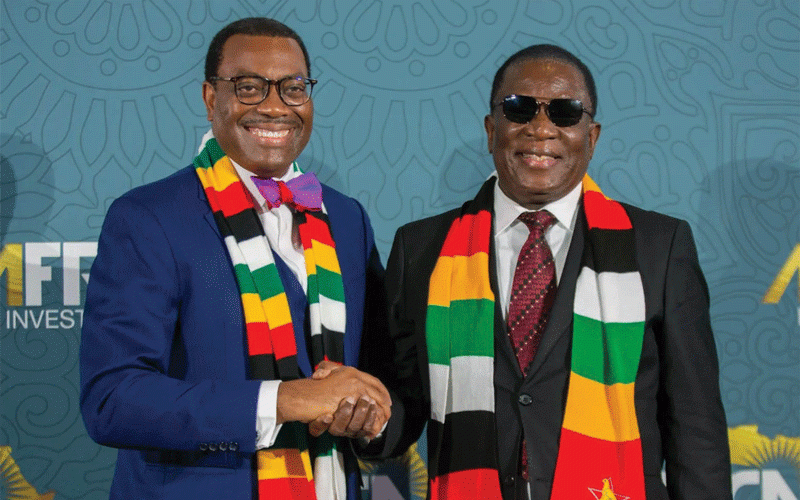 THE recent visit by the African Development Bank's president Akinwumi Adesina to the country was a step in the right direction.
Adesina was here because he is leading the debt clearance and arrears re-engagement effort for Zimbabwe. This involves re-engaging the country's external creditors which include Western nations and multilateral partners.
The goal is to either have debt forgiveness or to put forward a more tangible plan on how the country will deal with its huge debt.
And while this is a good step, long overdue as it may be, it is concerning that the government may not have the appetite to stick to the script.
Why do we say that? Because, during Adesina's visit he made it clear that he is "not a fan of resource-backed loans," and yet this government has been accruing such types of debt.
Such types of debt include resource-backed loans the government obtained from the African Export–Import Bank (Afreximbank) that already number billions.
Let us give an example. Back in December 2021, at the official launch of the construction of Afrexmbank offices in Harare, monetary and government officials quoted a figure of US$9 billion as the amount the country owed the bank.
Later, however, Afreximbank president Benedict Okey Oramah clarified that it was US$13 billion, a discrepancy of US$4 billion. This was shocking in that a month earlier; the country's external debt was marked at about nearly US$13,2 billion.
So, that means Treasury and the central bank did not account for the extra US$4 billion in the external debt which the country owes. In turn, this means such figures were handed to AfDB. It means that when Adesina makes his pitch to Western nations and multilateral partners to forgive Zimbabwe's debt or craft a solid plan to deal with it, the AfDB boss may be using questionable figures.
This is just one example and the only reason why we know about these resource-backed loans is because the High Court of Zimbabwe had to order Finance minister Mthuli Ncube to reveal such deals.
How can one work on debt, if the person they are assisting is underrepresenting what they owe, accrues more debt and resorts to understating the country's resources?
One of the reasons why Adesina said using resource-backed loans was a bad idea was that it's hard to price natural assets.
For example, in 2006, the Zanu PF government used platinum worth over US$20 billion to secure a Chinese loan worth US$200 million for agricultural equipment.
For Adesina's efforts to pay off, there need to be a tangible commitment not to waste budget funds and not to sign away the country's resources.
The current debt figures also need to be restated so that Western nations and multilateral partners can decide the best way forward in assisting Zimbabwe.
If not, the country is shooting in the dark in terms of debt resolution, and Adesina will be embarrassed.
Related Topics