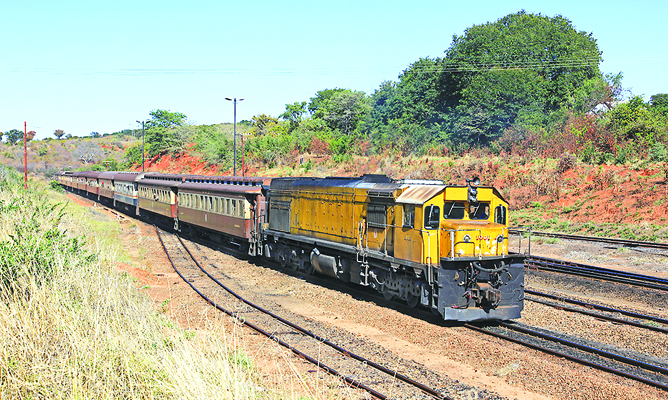 THE National Railways of Zimbabwe (NRZ) has invested $6,87 million towards refurbishment of locomotives and wagons as most of its infrastructure had become obsolete, it has emerged.
BY MTHANDAZO NYONI
Presenting the 2016 National Budget in Parliament last Thursday, Finance minister Patrick Chinamasa said strategies aimed at mobilising resources for the capacitation of NRZ, including rehabilitation of the railway network, with an overall requirement of $1,9 billion, were still to bear fruit.
"Using own resources, NRZ has so far this year, invested $6,87 million towards refurbishment of seven locomotives, 360 wagons, as well as reduction of speed restrictions by 42,7km against a requirement of 282km," Chinamasa said.
Chinamasa said, while the resources required to undertake the rehabilitation programme were huge, he proposed to allocate $3 million from tax revenues, to be complemented by NRZ's own resources of $10 million, towards rehabilitation of motive and tractive power, communication and signalling, track and yard infrastructure.
He said the recovery of the rail sub-sector requires that NRZ engages a technical partner able to bring new capital and technical ability.
"This calls for intensifying efforts on current engagement with potential partners and financiers outside the government budget," he said.
NRZ is saddled with a $144 million debt and government is negotiating with the Development Bank of South Africa (DBSA) for a loan of up to $700 million to fund its rehabilitation.
It narrowed its losses in the full-year to December 2013 by 7% to $49 million, but poor business and failure to recapitalise have left the parastatal facing a bleak future.
The ailing parastatal reported in the annual report for 2013 that its revenue fell by 5% to $86,2 million.
Administration expenses shot up to $61,3 million from $47,2 million, while finance costs were down to $1,6 million from $2,1 million the previous year.